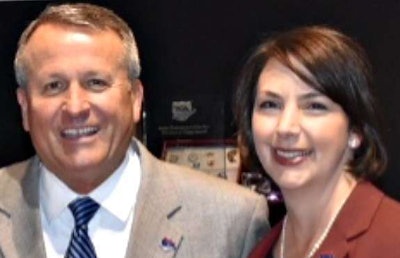 Angie Buchanan, vice president of human relations and safety for Melton Truck Lines, Inc. of Tulsa, Oklahoma, was recently presented with the Truckload Carriers Association's 2018 Clare C. Casey Safety Professional of the Year Award.
The honor is given to a trucking industry professional whose actions and achievements have made a profound contribution to enhancing safety on North America's highways. The presentation took place during TCA's 37th Annual Safety & Security Division Meeting in Norfolk, Virginia.
"In April 2008, Angie became part of the Melton family and assumed the VP of Safety and HR position," said Mike Natalizio, CEO of HNI Risk Services, in his nomination for Angie. "She is responsible for recruiting, staff and driver training, compliance, and other human resources and safety functions. She also inspires a team of approximately 45 people and is solely responsible for all safety and risk management strategy at Melton."
Nominees for TCA's award must exemplify leadership and demonstrate the goals of protecting lives and property in the motor transportation industry while serving their company, industry, and the motoring public.
The award is named after Clare Casey, a safety professional who served TCA from 1979 until 1989. He was devoted to ensuring that all truckload safety professionals build a strong safety network, and was instrumental in forming the first annual Safety & Security Division meeting in 1982.