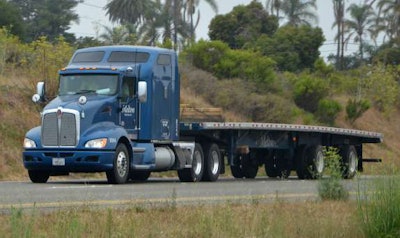 Melton Truck Lines, a flatbed carrier based in Tulsa, Oklahoma, today announced a 2 cents per mile pay increase for all company drivers. They will also receive a 25 percent increase in tarp pay to $50, and will now earn repower pay.
Melton's pay scale still varies depending on experience and tenure, according to the company, which said this increase will start student drivers at 43 cpm and will give the most experienced drivers 56 cpm.
"Our professional drivers have certainly earned this well-deserved raise," said Melton Chairman and CEO Bob Peterson. "They are continually striving for excellence in a demanding, yet highly rewarding career path. In designing this pay increase, we conducted a companywide driver pay survey to gain further insight into what our drivers would like to see changed in their overall compensation package. Our leaders reviewed these suggestions carefully and feel these changes reflect our drivers' requests, resulting in further financial success for them."
Melton drivers can also earn a $5,400 performance bonus, additional 8 cpm for over-dimensional loads and an extra 6 cpm pay for Canadian and hazmat loads. Melton also offers drivers guaranteed pay for their first 90 days.
In addition to Tulsa, Melton has offices and terminals in Laredo and El Paso, Texas; Birmingham, Alabama; and Masury, Ohio.