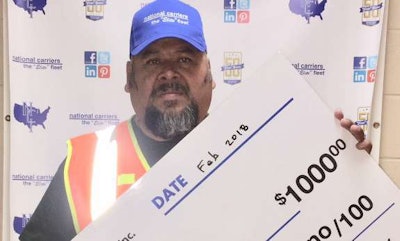 Arturo Lopez-Gallardo was named Driver of the Month for February at National Carriers, Inc. He is now a finalist for NCI Driver of the Year 2018 and received a $1,000 bonus.
A company driver, Lopez-Gallardo began pulling for NCI as a regional west coast fleet driver in December of 2013. When the regional fleet ceased operation, he began pulling freight nationwide.
"Arturo started driving for NCI in December of 2013, and has never had a service related issue," said Al Love, NCI director of driver services. "He is a very special guy, a great husband, and father of three daughters and one son. He is admired by many. In the past, he had some hardships to overcome, but he kept smiling and persevered."
National Carriers is a diversified motor carrier serving all 48 states in the continental U. S. with refrigerated, livestock, and logistics services.