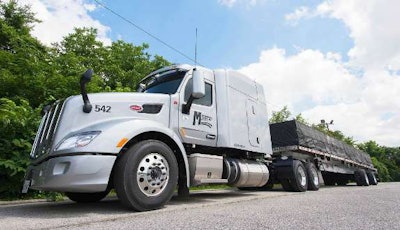 Montgomery Transport has announced changes to its pay package for existing drivers, and an increase in its Road to Success incentive program for new drivers.
All Montgomery Transport drivers will receive a 1 cent-per-mile increase for all miles effective immediately. That brings drivers' average annual pay to more than $62,000, according to a statement from the company.
New drivers joining the Birmingham, Alabama flatbed company are seeing an increase to their Road to Success startup incentives. Now, new drivers will earn up to $10,000 (up from $8,500) in incentive pay for achievable criteria such as orientation, time on the job, years of experience and safe driving, according to the company.
"At Montgomery Transport, we are always looking for ways to reward our professional drivers and attract new drivers who are looking for a great career home," said Thom Pronk, human resources representative for Montgomery Transport. "This raise and incentive boost is another way we do that. We also focus on maintaining a driver-friendly atmosphere to make sure drivers are comfortable and have an improved quality of life."