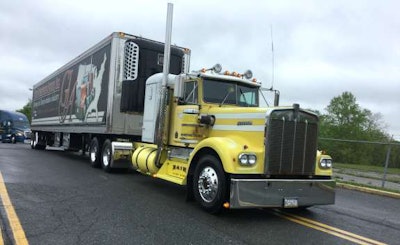 This year's Mother's Day Convoy raised a record amount of money for Make-A-Wish of Philadelphia, Delaware and Susquehanna.
Sponsored by the RoadPro Family of Brands, the 29th annual convoy's 539 truckers raised $501,387, enough to grant wishes for 50 children facing life-threatening illnesses.
The event was held May 13 in Lancaster, Pennsylvania, not far from RoadPro's headquarters in Palmyra.
"RoadPro is proud to sponsor this event every year and have the opportunity to meet all of the wonderful people in the truck driving community that support such a great cause," said Chuck White, vice president, brands, and marketing for DAS Companies, Inc., parent company of RoadPro. "It is amazing how truly chartable truck drivers are and how they will go above and beyond for those in need."
During the event, President and CEO of the Make-A-Wish chapter Dennis Heron said the convoy means "everything" to his organization, and thanked the truckers who showed up in the wind and rain.
"You guys are everything," said Heron. "You are the heart and soul of this community and this event. Without them and their goodwill and their fundraising abilities, we're at ground zero. And, they really embrace it. They relish the idea of having a wish child riding with them. They get a sense that they are truly giving back."