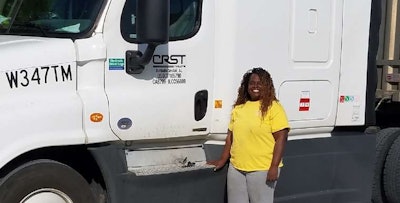 Trucker Chanita Ward spends her driving days hauling metal coils that are taller than she is, but it's just all in a day's work for the driver of 12 years.
Ward, from Fort Smith, Arkansas, is a lease purchase operator for CRST Malone. She currently runs a dedicated account hauling six-foot coils.
"For me, I really wouldn't want to do anything else than flatbed. I've done tanker, van, reefer, and I just wouldn't want to pull anything else than flatbed," she said.
Flatbedding helps keep her in shape, which she appreciates. Ward was diagnosed with breast cancer in 2013 and she worried about how it might impact her trucking career.
She sat out a year from trucking while she underwent chemotherapy and another nine weeks of radiation. After that experience, being able to return to the truck was a great feeling, she says. She wasn't sure she'd be able to lift tarps back up again.
"To be able to even get there and put on a strap or throw a chain is actually a very good feeling," Ward said.
To help prepare to go back on the truck, Ward assigned herself daily tasks to help aid in her recovery. For other women going through a similar experience, she encourages them to try to keep a positive attitude.
"The road ahead of you will be rough but just smile and try to maintain a positive attitude. A lot of dealing with that is definitely the attitude. If you've got a negative attitude and you've got doubts about everything, then I don't feel like your recovery will be as good," Ward said. "I fought to get back in the truck. I had to prove myself. I had to make daily chores so that I could make sure that I was up to the task. It's a struggle but you get there."
Ward encourages women to go into flatbedding because women can do anything a man can do, she says. That's the message she's taking to the Great American Trucking Show Aug. 23-25 in Dallas, where'll she be helping CRST Malone recruit women drivers.
"I think it's a good idea to put a woman out there and show them hey, there are women in flatbed," Ward said. "I'm very happy and very proud to do it, because I think women can do anything they put their mind to."