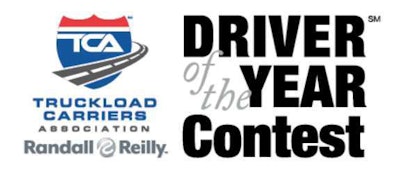 If you are or know of a great company driver or terrific owner-operator, this contest ought to be of interest.
One lucky company driver and one owner-operator will each be $25,000 richer if they are chosen the driver of the year in a search by the Truckload Carriers Association, and Truckers News and Overdrive.
Nominations are open for the 2018 Company Driver and Owner-Operator of the Year awards. The contests are sponsored by Cummins and Love's Travel Stops.
The Company Driver of the Year contest honors company drivers who are reliable and safe. The contest is open to any company driver employed by an over-the-road carrier who has safely driven one million consecutive, accident-free miles. A company driver must be nominated by the motor carrier by which he/she is currently employed and must have been employed by and driving for his/her current trucking company employer for the past three years.
TCA and Truckers News' sister publication Overdrive are searching for the Owner-Operator of the Year. This contest recognizes owner-operators who operate safely and promote the industry, as well as run their businesses successfully.
The finalists in each contest will receive a trip to TCA's annual meeting March 10-12 at the Wynn in Las Vegas, where the winners will be announced. Each of the finalists will receive $2,500.
Contest rules and nomination forms can be found here.