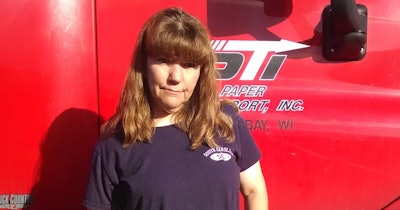 Paper Transport driver Susan Allard may not be an over the road trucker any more, but she now plays another critical role in the supply chain process.
Allard became a spotter a few weeks ago after nearly eight years of over the road and regional driving. As a spotter she is in and out of the truck over 80 times each day, moving trailers throughout the yard.
She still spends her workday in a truck, but her days are more fast-paced now because of the constant activity of moving trailers around and getting in and out of the truck. Being a spotter requires much more physical exercise than over the road driving, which is a benefit Allard appreciates.
"It's a lot more physical and it's a smaller truck, but you're hooking up to the trailers and you're disconnecting from the trailers. You're putting them in the docks or you're pulling in from the docks and you're shutting the doors and you're putting them so someone else can pick up the load of trailers," Allard, from Oconto, Wisconsin, said.
"It's a lot more physical than being out on the road and driving all day long," Allard said. "I like the physical exercise I'm getting in and the physical work. I've always been a real hard worker, so I just like it."
Another benefit is that she gets to be home daily. In addition to being home nightly, her schedule is also set up so that she works four days and then has four days off. This gives her more time to indulge in her favorite past times, which include wild mushroom hunting and refinishing furniture.
"I'm big on nature and I do like to spend some time in the woods. I hunt for wild mushrooms. It's peaceful for me in the woods," Allard said.
Allard enjoys all of the home time she gets now as a spotter, but she does sometimes miss over-the-road driving and traveling throughout the lower 48 states. For other drivers who may be interested in working as a spotter, she reiterates that being a spotter is a more involved role than being an OTR driver.
"It's a lot more demanding when you go from regional or OTR to local because your deadlines are harder and you have to get more done in a day," Allard said. "You don't have your miles to get behind you and then you're at where you're going to be for the next day. So there's more to it."
Allard says that trucking is a great career and she encourages other women to pursue driving jobs.
"Don't be afraid to do it," she said.