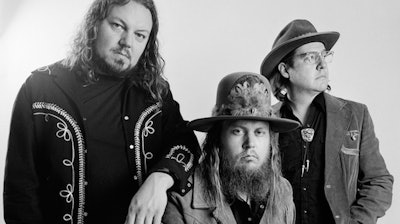 The Steel Woods' sophomore album "Old News" pairs the soulful voice of lead singer Wes Bayliss with guitarist Jason Cope's instrumental artistry. The album was released Jan. 18 and is now available for purchase.
The Southern rock duo has headlined for the likes of Lynyrd Skynrd and Miranda Lambert, among others.
Their album pays homage to the artists who influenced them through four tribute tracks honoring Tom Petty ("Southern Accents"), Merle Haggard ("Are The Good Times Really Over"), Wayne Mills ("One Of These Days"), and Gregg Allman ("Whipping Post"). The album also features a cover of Black Sabbath's "Changes."
The Steel Woods' "Old News" is available for purchase on Amazon, iTunes, and wherever music is sold or streaming.
The album's track list:
1. All of These Years
2. Without You
3. Changes
4. Wherever You Are
5. Blind Lover
6. Compared to a Soul
7. Old News
8. Anna Lee
9. Red River
10. The Catfish Song
11. Rock That Says My Name
12. One of These Days
13. Are the Good Times Really Over
14. Whipping Post
15. Southern Accents