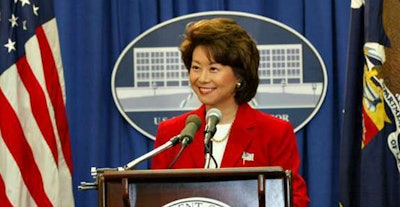 U.S. Secretary of Transportation Elaine L. Chao Friday will deliver what organizers are calling "the keynote address" at the Mid-America Trucking Show in Louisville.
A statement from MATS said Chao will provide an update on the Department of Transportation's efforts on safety, infrastructure, truck parking, and reducing trucking regulations. She is scheduled to speak at 1 p.m. in Conference Room B-101.
MATS opens Thursday at the Kentucky Expo Center and runs through Saturday.
She will be joined by Federal Motor Carrier Safety Administration Administrator Administrator Raymond P. Martinez.
Chao served as Secretary of Labor from 2001 to January of 2009. She began her executive career in public service working on transportation and trade issues at the White House. She then served as Deputy Maritime administrator, in the Department of Transportation; Chairman of the Federal Maritime Commission; and, Deputy Secretary of the Department of Transportation.
She also was president and chief executive officer of United Way of America and was director of the Peace Corps.
Chao is married to Senate Majority Leader Mitch McConnell, a Republican from Kentucky.