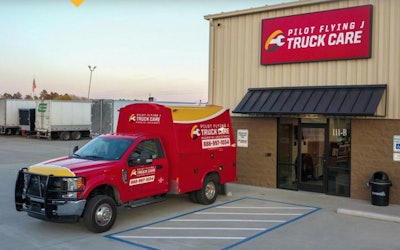 Pilot Flying J Truck Care is providing free mid-trip inspections, a value of $50, at its service center locations now through June 7 to help professional drivers prepare for the Commercial Vehicle Safety Alliance's International Roadcheck event June 4-6.
In addition to participating in the mid-trip inspection, Pilot Flying J Truck Care recommends drivers take advantage of these tips to help prepare for the roadcheck:
Check your vehicles and check them often. Pre-trip and post-trip inspections are imperative to find issues with the vehicle. Bad brakes or lights are easy to spot and easy to fix
Keep up on preventative maintenance. Proper lubrication at set intervals prolongs the life of any moving parts
Check tires for irregular wear. If a tire is not wearing evenly this could be a telltale sign of a steering and suspension issue
Do not ignore noises. A lot of the time an issue in the steering system can be heard before it is seen. A whining steering box or a popping king pin or tie rod end can lead to something bigger if ignored
Professional drivers and trucking companies can download the Pilot Flying J app or visit find participating Service Center or Roadside Assistance locations online.