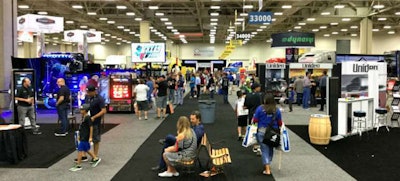 There's a reason it's called the Great American Trucking Show: the trucks. And, the ones that stand out the most are the numerous award winning show trucks that are entered in Overdrive's Pride & Polish competition.
GATS returns to the Kay Bailey Hutchison Convention Center in downtown Dallas Aug. 22-24.
Best of Show winners will be named in five categories in Pride & Polish:
working bobtail
working combo
limited-mileage bobtail
limited-mileage combo
builders class.
Winners will also be named in categories related to paint, engine work, interior and more. Folks attending GATS will also have a chance to vote for the People's Choice winner.
Drivers interested in entering their trucks into the Pride & Polish competition can do so here.
This year's show will, among other things, also feature a rat rod pavilion with two miniature trucks and a number of rat rods.
The three-day trucking industry extravaganza also includes:
Landstar Health and Wellness Pavilion
the selection in the Overdrive-Red Eye Radio Truckers Talent Search winner
naming of Trucking's Top Rookie, which is presented by Truckers News
a pavilion featuring the latest trucking-related products
more than 500 exhibitors
musical entertainment and celebrities
recruiting pavilion where you can talk to fleets looking to hire drivers
a series of free educational programs including Overdrive's Partners in Business seminars
If you're driving your rig to GATS, you can park at the TA-Petro Truck Parking Community. Featured is nightly entertainment, free shuttles to and from the convention center, a shower trailer, truck maintenance, pet grooming, food by Flaming Grill Barbecue Food Truck, and auctions to benefit the St. Christopher Truckers Fund. The TA-Petro Truck Parking Community is located at 3013 S. Haskell Ave.
If you're planning to attend GATS, you can register online here.
Show hours are:
Thursday, Aug. 22 noon to 5 p.m.
Friday, Aug. 23, 10 a.m. to 5 p.m.
Saturday, Aug. 24, 9 a.m. to 4 p.m.