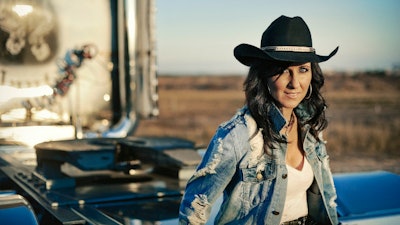 Country rock performer Jayne Denham has deep roots in trucking, so it's fitting that she'll release her latest single at the Great American Trucking Show later this month in Dallas.
Denham will perform "Black Coffee and White Lines", an upbeat anthem about life on the road, Friday, Aug. 23 on the stage of the Red Eye Radio booth in the show's lobby. Afterward, five fortunate folks and their guests will have the opportunity to meet Denham and several special friends.
Three cast members of the hit reality TV show, Ice Road Truckers, will join Denham at the meet-and-greet party, which is sponsored by Red Eye Radio. Winners of the drawing will have the opportunity to meet Lisa Kelly, Reno Ward and Carey Hall, all who drove the dangerous ice roads of northern Canada and Alaska.
In addition, contest winners and guests will go home from the "Black Coffee, White Lines on Ice" party with one-of-a-kind swag bags filled with GATS and Jayne Denham items.
All you need to do to qualify for the drawing is to enter online between now and midnight Thursday, Aug. 14, 2019.
Denham has established herself as one of Australia's leading country stars. She has won a long list awards for her numerous singles, four albums and music videos, many with strong truck driving themes. Her "Addicted to Diesel" and "Beyond These City Lights" both went to number one on the county singles chart in 2014.
Lisa Kelly spent eight seasons on Ice Road Truckers, becoming one of its most popular and recognizable stars. Reno Ward appeared in two seasons of the show, including the one following the death in 2016 of his father Darrell Ward, an anchor of the show for five seasons and Kelly's partner for one. Carey Hall grew up in a Louisiana trucking family and made a name for himself in Alaska, appearing in four seasons of the show.
Denham's "Black Coffee and White Lines" is available on Spotify, iTunes, Apple Music, Amazon, YouTube and Google Play.
The Great American Trucking Show is Aug. 22-24 at the Kay Bailey Hutchison Convention Center. You can register for the show for free online.