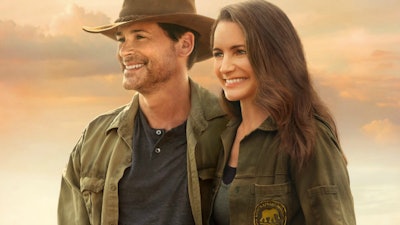 There's no denying it, we're all in the hammer lane headed toward Christmas.
The fat man in the red suit — no, not the annoying one in dispatch — will do his best truck driver imitation and deliver goods around the world in one night in less than 60 days.
So, it may make sense to start thinking about what to stream while you're on the road and not in the mood for yet another rerun of Rudolph the Red-Nosed Reindeer, the animated version from 1964 with that weird miner Yukon Cornelius.
Fortunately, Netflix is delivering a sackful of new original Christmas flix. They cover a lot of territory so there ought to be something that appeals to you. Just be prepared to have your heartstrings tugged by a couple of the movies.
This year's offerings include:
Klaus: The creator of Despicable Me presents an animated take on Santa Claus's origin story. Character voices are provided by the likes of Rashida Jones, Jason Schwartzman, and JK Simmons.
Holiday in the Wild: Kristin Davis (Sex and the City) and Rob Lowe star in this story of a divorcée who goes on a safari in Zambia — originally meant to be her second honeymoon — where she rediscovers herself while working at, of all places, an elephant sanctuary.
Home for Christmas: Perpetually single Johanne starts a 24-day hunt for a partner to bring home for Christmas. This is a six-episode Norwegian series.
Holiday Rush: A widowed radio DJ and his four spoiled kids need to change their lifestyle when Dad loses his job just before Christmas. Stars Romany Malco and Sonequa Martin-Green.
Jingle Jangle: Starring Forest Whitaker, Hugh Bonneville, Keegan-Michael Key, and Madalen Mills, the film tells the story of a toymaker and his granddaughter who construct a magical invention which, if they can get it to work in time for the holidays, could change their lives forever.
The Knight Before Christmas: Be willing to suspend your disbelief for this one. Vanessa Hudgens (last year's The Princess Switch from Netflix) returns in this holiday romance with a time-traveling Medieval knight and an evil sorceress.
A Christmas Prince: The Royal Baby: A pregnant Amber must find out who stole a missing peace treaty before Christmas Eve arrives. Rose McIver and Ben Lamb star as Queen Amber and King Richard.
Merry Happy Whatever: A strong-willed dad (Dennis Quaid) navigates the stress of the holiday season when his daughter brings her new boyfriend home. This is an eight-part series, so there will be lots to stream.