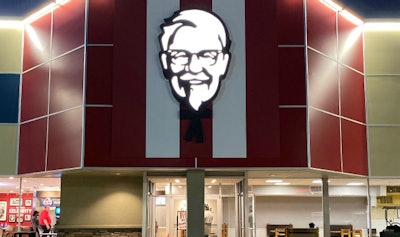 TravelCenters of America Inc. is opening a Kentucky Fried Chicken in its TA travel center in Greenwood, Louisiana, located at Interstate 20, Exit 5. This is the first KFC to open in TA's network.
The new restaurant has dining room seating for 60 guests and features design elements that connect to KFC's heritage and its founder, Colonel Harland Sanders, including:
Photos of Colonel Sanders and his travels around the world and encounters with celebrities
A signature bucket chandelier, which is the centerpiece of the restaurant's dining area
KFC has a rich history of feeding America's travelers. The fried chicken chain was founded in 1952 in a roadside café in Corbin, Kentucky.
Signage on the restaurant hails from Kentucky and has ties to Colonel Sanders. It was created by Ruggles Sign Company of Versailles, which was founded by the husband of one of Colonel Sanders' daughters.