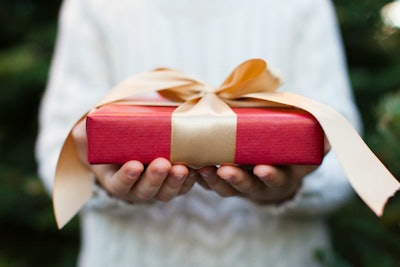 Christmas is right around the corner and now is the time to get any last-minute gifts you may need. If you're still struggling to pick out what to get the woman trucker in your life then the options offered up in this guide can help you.
1. Carhartt Sandstone Mock-Neck Sherpa-Lined Vest
It's cold outside but your favorite trucker may not want to drive around in a heavy jacket. This sherpa-lined vest will keep them warm on the go without weighing them down. It has two large front pouch pockets and two inside pockets, offering up plenty of functionality. This warm vest is available in four earth tone colors and available sizes run from extra small to 3X. It retails for $70.
Did we mention it's cold outside? With that cold comes snow. Help your favorite trucker navigate the wintery terrain by gifting them a quality pair of snow sneakers. This pair for L.L. Bean retails for $120 and comes in sizes 6-11 with medium and wide width options. What makes this suitable for snow? They have a rubber outsole for traction on slippery surfaces and a waterproof membrane system and moisture-wicking lining to keep feet dry amid all the slush and snow. It has a stain-resistant suede and fabric design and 200-gram PrimaLoft insulation for warmth.
3. Roadpro 12-Volt Portable Roaster
The RoadPro 12-Volt Portable Roaster has a 5-foot-long, heavy duty cord plug that connects to the truck's 12-volt power point. It can heat up to 225 degrees and can accommodate a reusable 6″ by 9″ glass baking dish or disposable aluminum pans. It has a vented glass lid with locking handles. It retails for around $45.
Help your trucker show off their Kenworth loyalty by gifting them Kenworth-branded traveling drinkware. The Kenworth store offers up a selection of water bottles, tumblers, mugs and glasses. Prices range from $16- $100, giving you options for whatever your budget may be.
Etsy is a gold mine for creative gifts and this shirt from the five-star rated NativeEastApparel Etsy shop is no exception. Featuring a big rig designed in red, white and blue, the shirt reads "My teacher was wrong, I do get paid to stare out the window all day." The design is available in a wide variety of styles and sizes, which prices from $15 to $40 depending on your selection.
6. BlueParrott B350-XT Headset
The BlueParrot B350-XT headset allows drivers to answer or reject calls with just their voices, providing a completely hands-freed experience while driving. It offers noise cancellation that blocks out 96% of background noise. The headset provides up to 24 hours of talk time and can be paired with two cell phones or a phone and a PC or tablet at the same time. Users can customize the headset using the Parrot Button for one-touch access to their favorites features. The headset is available at most travel centers for $130.
Is your trucker a Peterbilt gal? Truckers love their hats and you can't go wrong with a Peterbilt-branded cap. Peterbilt offers hats in a wide variety of styles, including the popular trucker hats with mesh backing. Prices start at $5 and go up to $37.
8. 2020 Rand McNally Motor Carriers' Road Atlas
Every trucker should have a hard copy map on their truck to compare against their GPS and help them trip plan. The 2020 Rand McNally Motor Carriers' Road Atlas features updated maps highlighting state and national designated routes as well as updated restricted routes, low clearances, and weigh station locations. It has 40,000-plus city-to-city mileages plus state mileage charts. It's available for $20.
The SiriusXM Onyx EZR radio delivers access to all of SiriusXM's programming with an easy-to-read, large high-resolution display screen. Users can stores up to 10 of their favorite channels and curate their own music channel that's a blend of their favorites with the TuneMix feature. The receiver mounts easily to the truck's dash. It is available at travel centers and online. The radio and kit retail for around $70 while the subscription is $17/month.
10. Mack Luggage
Company drivers often have to heft their belongings in and out of the truck when they come home or when they head out. They can do that in style with the gift of Mack-branded luggage. The Mack Shop selection includes gym bags, duffel bags, laptop totes and cases, backpacks and tool bags. Available accessories include luggage tags, an essentials dry bag, and a TSA-approved lock. Prices vary from $7 to $326.