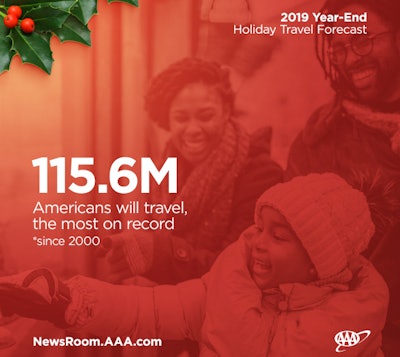 Get ready to share the interstates with more holiday travelers than ever before.
A record number of Americans will travel for the upcoming holidays possibly doubling — even tripling — travel times in major metropolitan areas on Thursday, Dec. 26, the busiest day of the 11-day travel period.
AAA says a total of 115.6 million Americans will travel between Saturday, Dec. 21 through Wednesday, Jan. 1, the most ever during the 20 years it has been tracking holiday travel. Of that amount, 104.8 million will drive to their holiday destinations. That means 3.9 million more people are expected on the roads compared with last year, an increase of 3.9%.
For the 104.8 million Americans traveling by automobile, INRIX, in collaboration with AAA, predicts only modest delays for most of the holiday week. Nationally, drivers could experience double the travel times on the afternoons of Thursday, Dec. 26, and Friday, Dec. 27. New York City and Washington, D.C. could see triple the normal delays.
More than 853,000 motorists will call AAA for assistance at the roadside this holiday season. Dead batteries, flat tires and lockouts will be the leading reasons AAA members will experience car trouble.
City
Worst Day to Travel
Peak congestion period
Delay Multiplier
Atlanta
Thursday, Dec. 26
4:30 – 6:30 PM
1.3x
Boston
Friday, Dec. 27
4:00 – 6:00 PM
1.5x
Chicago
Thursday, Dec. 26
4:45 – 6:45 PM
1.3x
Detroit
Thursday, Dec. 26
4:30 – 6:30 PM
1.4x
Houston
Friday, Dec. 27
4:30 – 6:30 PM
1.8x
Los Angeles
Thursday, Dec. 26
4:25 – 6:25 PM
1.6x
New York
Thursday, Dec. 26
4:15 – 6:15 PM
2.7x
San Francisco
Thursday, Dec. 26
4:00 – 6:00 PM
2.0x
Seattle
Friday, Dec. 27
4:15 – 6:15 PM
1.2x
Washington, D.C.
Thursday, Dec. 26
4:00 – 6:00 PM
3.0x
Source: INRIX