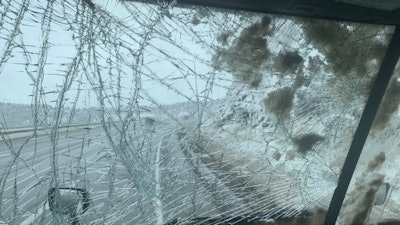 A trucker had a rude interruption of his recent trip in Colorado when a state plow pushed snow off a bridge and onto the front of his truck, smashing the windshield and showering the driver with glass.
Driver Lawrence Casados told KMGH-TV he was driving on Interstate 70 before Thanksgiving when a Colorado Department of Transportation plow pushed snow off the bridge and onto his truck.
Casados was able to control his truck and stop safely. A state police officer was parked nearby and told Casados it was OK for him to drive to get the shattered windshield repaired.