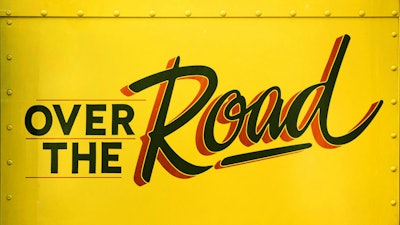 She Drive's sister publication Overdrive magazine has partnered with PRX's Radiotopia podcast network for an audio series debuting Feb. 20.
"Over the Road" is hosted and narrated by Moeller Trucking driver and former longtime owner-operator Paul Marhoefer, regular contributor to the Overdrive Extra blog and a singer-songwriter increasingly well-known in the trucking community. Through eight episodes geared toward both trucking and general public audiences, the podcast gives voice to the trials, tribulations and bedrock realities of the men and women hauling freight on American roads.
Hear a sample of "Over the Road" and subscribe here.
Julie Shapiro, executive producer for Radiotopia and "Over the Road," was drawn to the project in talks spanning several years with Overdrive Senior Editor Todd Dills as one with potential to stand out from the network's other critically acclaimed projects. She'd become well aware of the "value and the impact of letting people tell their own stories," Shapiro says, "of seeing a culture and a place from the inside of it."
Partnering with Overdrive proved effective toward that end. Building a bridge between the highway haulers who read the magazine and the millions of listeners in Radiotopia's network became part of the project's core mission.
"There's nothing like 'Over the Road' out there," Shapiro says. "We see how audio can really change people's hearts and minds about things, give them a sense of empathy and understanding about others who aren't like them." That's the goal for general public listeners, but "we can offer that to those who are connected to trucking, too."
The hope is "we're doing both audiences a service by introducing them to each other," she adds.
Listen for free at http://overtheroad.fm, Apple Podcasts or Spotify. "Over the Road" also airs on SiriusXM channel 123 starting February 23.