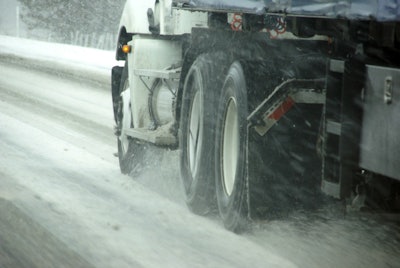 For a week in late November, most of the U.S. was held in the grip of a massive winter storm that complicated already heavy Thanksgiving travel, covered 30 of the 50 states with at least 4 inches of snow, and dropped record amounts of snow in some locations.
The coast to coast storm slowed, stopped or stranded numerous tractor-trailers from Oregon to Maine. But, for the prepared professional driver, it was just another week at the office because tricky winter driving is part of the job.
Those are the drivers who always know what they're driving into before they start out, keep their CB on, have tire chains handy, and know that ice forming on their mirrors could also mean ice forming on the highway. Such drivers know to watch the water coming off the tires of other vehicles. If a lot of water is being sprayed, the road is most likely just wet. If there is less spray, it's a good bet the highway is freezing or has frozen.
They also know:
a proper pre-trip inspection is even more important in cold and/or snowy weather, and a thorough review when you stop to refuel or during a break is not a bad idea

maintaining at least half a tank of fuel is important

to increase their following distance, moderate their speeds, brake and accelerate with a light touch, and be especially cautious on bridges

it's important to have additional warm clothing, an extra warm blanket, enough food and water to see them through a weather-related delay

to keep digital devices — especially their smartphones — fully charged

to pay attention, not get distracted, be vigilant and prepared, but at the same time not be tense and prone to overreact

watching other trucks can provide valuable insights, but also know their limits and those of their truck

that as simple as it sounds, getting into and out of their truck can be tricky — if not downright dangerous — in winter
They also know when enough is enough and find a place to park and wait out the worst of the storm.
But, being properly prepared also means tending your truck's mechanical needs. That's as simple as checking battery strength, ensuring tires are properly inflated, and that all belts and hoses are in good shape.
There's also a variety of products that can improve your chances of having a successful, uninterrupted winter trip. Numerous companies the likes of Howes, FPPF, Lucas Oil Products and Power Service make numerous helpful products that can prevent winter engine problems and fix them should they happen.
As robust and powerful as your truck's engine is, cold weather and even a modest amount of moisture in your fuel line can cause problems. Paraffin in diesel can crystalize at a modest 32 degrees and turn to gel and clog up the works by the time the temperature reaches 15 degrees. Fortunately there are additives to reverse that process and get your truck running properly again.
Even something as seemingly modest as a clean windshield and headlights matter even more in the winter. To see properly, your truck needs winter-worthy wiper blades like those by WeatherAce. That windshield — inside and out — needs to be clean and that is as simple as having Armor All Glass Wipes in your truck.
When all is said and done, winter driving is one part preparation, one part skillful driving, and one part having the right resources before you hit the road.