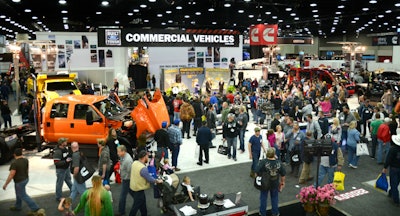 The Mid-America Trucking Show scheduled for March 26-28 at the Kentucky Expo Center in Louisville will not go on as planned.
Show management last week posted a statement to the MATS website:
"It is with a heavy heart and deep regret that we announce the cancellation of the 2020 Mid-America Trucking Show scheduled for March 26-28 in Louisville, KY.
"This is a decision we did not make lightly, but in consultation with our exhibitors, attendees, supporters, and partners, including Kentucky Venues, Louisville Tourism, Kentucky Governor's Office, and the Kentucky Cabinet for Health and Families Services.
"In light of today's extraordinary circumstances and with an abundance of caution, this decision has been made with the health and safety of our attendees, exhibitors, employees, and show partners in mind.
"MATS has a proud tradition as the largest and most well-attended show in heavy-duty trucking. We will return stronger than ever in 2021 and will focus on an unforgettable 50th-anniversary event – March 25-27, 2021 in Louisville, KY.
Earlier this month MATS made public all of the steps it was taking to ensure the health and safety of exhibitors and those attending what would have been the 49th annual show.
The Louisville Courier-Journal last week reported there have been eight confirmed cases of COVID-19 in Kentucky as of Tuesday, March 10. The newspaper also published a long list of local events canceled because of the outbreak.