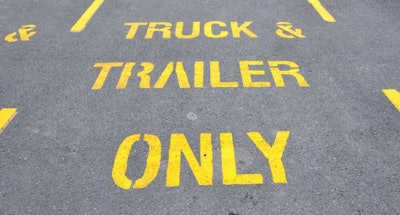 The constant problem of finding a place to park at the end of the driving day is always an issue. It's become even more of a problem for some over-the-road truckers with the spread of the COVID-19 coronavirus.
However, several states are taking steps to ensure truckers have a place to park in these demanding days. Here's a quick roundup of what's happening in several states.
Wisconsin keeps its rest areas open
The Wisconsin Department of Transportation is keeping its 28 rest areas under normal operation to support truckers during a critical time for moving supplies.
"Wisconsin recognizes and deeply appreciates the nation's truckers who are hard at work to move medical supplies, keep grocery stores in stock and provide other essential equipment," said WisDOT Secretary-designee Craig Thompson. "For truckers, rest areas offer an important resource, and we are working hard to clean and maintain them."
The following truck safety weight enforcement facilities also provide all-hours parking and access to restrooms and vending:
Kenosha
Beloit
Madison
Superior
Sparta
Information on rest areas can be found here, and truckers can use 511 for a complete map of their locations.
Indiana scale houses open for trucker parking
Prompted by the expansion of the federal hours of service waiver in response to the spread of the coronavirus, the Indiana State Police has opened weigh stations in the state to all truck drivers for 24/7 parking.
The ISP said truckers do not need to be hauling essential goods under the waiver to park.
Locations include:
Lowell, which may be limited as INDOT is using it as a construction office/storage area: Interstate 65 southbound at the 231.

5 mile marker

Chesterton: Interstate 94 eastbound and westbound at the 29 mile marker

Warren: Interstate 69 southbound at the 280 mile marker


Richmond: Interstate 70 westbound at the 148 mile marker

West Harrison: Interstate 74 eastbound at the 171 mile marker


Terre Haute: Interstate 70 eastbound at the 0 mile marker
The scale house in Seymour is not open for parking due to construction on Interstate 65.
The ISP said it will allow truck parking, including overnight parking, at the scale houses under the following circumstances:
Parking does not interfere with the operations of the facility
Parking in only marked, striped parking spaces
No parking on any ramps
No parking in the scale lanes or in front of the inspection barns
No parking in unmarked areas of the parking facilities or areas designated for staff or handicap parking
No parking in other areas identified by on-site ISP or INDOT staff
No littering
No alcohol or drug consumption
Restroom facilities may not be available
Adherence to any other rules set forth by the facility's ISP or INDOT staff
Pennsylvania relents; reopens 13 of 30 rest areas
The Pennsylvania Department of Transportation has reopened 13 of its 30 rest areas on interstate highways, locations it says are the most heavily-utilized by truckers. It had previously closed all rest areas and blocked them to prevent any parking.
The reopened locations include:
Interstate 81:
Luzerne northbound/southbound
Cumberland northbound/southbound;
Interstate 80:
Venango eastbound/westbound
Centre eastbound/westbound
Montour eastbound/westbound
Interstate 79:
Crawford northbound/southbound
Allegheny northbound only
In a statement Wednesday, March 18, PennDOT said portable restroom facilities will be available at these locations. Each location will have five portable toilets, including one that is ADA-accessible, that will be cleaned once a day. Electronic message signs will be used to notify drivers near the opened areas.
The department also said, "In order to prevent further spread of COVID-19, we will not be opening any of the indoor facilities because there is no staff to keep them clean and properly sanitized. We will continue to evaluate and will determine whether additional rest areas can be reopened."
Also, earlier this week the Pennsylvania Turnpike Commission announced partial closures to all 17 service plazas, however, they will be rolling back some of those restrictions by Saturday at the latest.
Those changes include:
Indoor bathrooms will be available at all hours
The convenience store will be open at all hours
One restaurant at each location will be open from 7 a.m. to 6 p.m. and will serve a limited take-out menu but all tables and chairs will be removed from the inside of the plazas.
Philadelphia area truck repair company offers parking
Another Pennsylvania company is stepping up to provide parking and other amenities for truck drivers.
PennFleet, a full-service repair shop specializing in fleet vehicles located south of Philadelphia, is offering truck parking spots on a first-come, first-served basis.
In addition, PennFleet has partnered with some of its customers to help provide portable toilets, hand sanitizing station, snacks from Bimbo Bakeries USA, and beverages free of charge to truckers.
PennFleet is located a few miles off Interstate 95 just south of Philadelphia, at 591 Meetinghouse Road in Boothwyn, Pennsylvania. Its hours of operation are 7 a.m. to 5 p.m. and can be reached at info@pennfleet.com or call 610-940-1507 if you have questions.
Founded in 2004, PennFleet Corp. is a full-service repair shop specializing in fleet vehicles. Services available include mechanical repairs, 24-hour emergency, and onsite road service and collision repair. The company was named one of the "Soaring 76 of 2018" by the Philadelphia Business Journal.