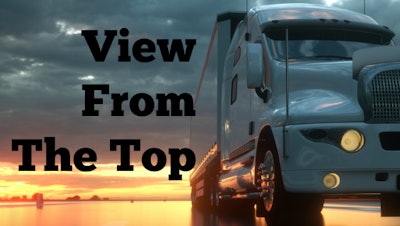 These are days when America and Americans are making adjustments to an uncomfortable new reality brought about by the spread of the COVID-19 coronavirus.
The trucking industry has made some adjustments too. But unlike a lot of businesses, it has kept on providing the essential service of transporting this county's much-needed goods.
To find out how trucking has done this, we've been speaking with leaders of some of the country's most successful trucking companies. Here are podcast interviews with four of them from our series, View From the Top.
Roehl's Tim Norlin: 'We can't take our foot off the gas'
To suggest Roehl Transport, a family-owned, diversified carrier based in Marshfield, Wisconsin, got off to a good start in 2020 is a bit of an understatement, according to one company official.
"We took off like a rocketship as the year began," says Tim Norlin, vice president for driver development for the carrier that has dry van, refrigerated and flatbed divisions.
But, unlike many carriers that saw their fortunes ebb as the COVID-19 coronavirus outbreak grew, Roehl has remained busy and expects to stay that way. Norlin says that while Roehl quickly transitioned most of its employees to work from home "we haven't missed a beat."
One of the reasons Roehl remains busy and is hiring some 250 drivers, is its location. Norlin says Roehl hauls plenty of dairy and paper products, both of which are manufactured in Wisconsin and remain in demand.
"Everyone here is cautiously optimistic that when we're all allowed to get back to normal, things will come back pretty strong and pretty quickly," says Norlin. "We truly believe that we cannot slow down. We can't take our foot off the gas. Now's the time to prepare for the coming rebound.""We were in a hiring mode before the pandemic and we expect to be after it has passed," said Norlin. Roehl recruiters ramped up to hire experienced drivers, some of whom may have lost jobs with other companies. Norlin says the company will need those drivers as it firmly believes Roehl will have plenty of freight to haul.
Werner's Derek Leathers on trucking through COVID-19
Like other companies in general and trucking firms in specific, Werner Enterprises is adjusting to the new normal wrought by the nationwide spread of the COVID-19 coronavirus. And, the company's President and CEO Derek Leathers is pleased with and proud of how Werner's employees, and especially its corps of drivers, have responded to the challenges caused by the outbreak.
"Driver morale is very strong," said Leathers. "They're as salt of the earth as it gets in terms of answering the call to action. I'm just very proud of them."
Leathers said the Omaha, Nebraska-based company's driver corps is doing well and is anxious to work. "They want to answer the call. They want to drive and they want to deliver."
And, that's the case not just for Werner and its drivers, but for the trucking industry as a whole as it responds to the COVID-19 coronavirus.
"Our industry is showing what it's made of," he said in this podcast interview with Truckers News. "The trucking industry has stood up and answered the call."
Listen to what else Leathers has to say in this special View From the Top episode of the Truckers News podcast.
Matt Herndon on how U.S. Xpress responds to COVID-19 challenges
It wasn't all that long ago that the COVID-19 coronavirus was a little known health issue far from the shores of America. But, in a matter of months, it went from a slowdown of shipments of goods from China, to a global pandemic that would infect thousands of Americans and upend this nation's economy.
It also presented challenges to the trucking industry. Regardless of the size of the company or their place in the bigger picture, every carrier has felt the sting; all have had to respond.
Matt Herndon, chief operating officer of U.S. Xpress, has been at the fore of how the 7,000-truck carrier based in Chattanooga has responded to COVID-19. The 30-year trucking industry veteran said the company has focused on enhanced communications to ensure its customers, drivers and other employees are well informed of current conditions.
In this episode of the Truckers News Podcast, Herndon talks about those communication efforts. He explains how U.S. Xpress responded quickly to deliver information to its drivers, and what it did to help some who lost their jobs at other carriers join US Xpress.
Raider Express' Mike Eggleton optimistic through COVID-19
These are heavy days, ones in which social media newsfeeds often overflow with gloom or doom and sometimes both. And, rightfully so. The COVID-19 coronavirus has blanketed much of the country, millions are jobless and self-isolating, and the economy is in dire straits.
Still, Raider Express Vice President Mike Eggleton is upbeat about how this Forth Worth-based protein hauler has responded to the crisis, how it's performing, and what's ahead.
"We've never been stronger as a company," said Eggleton in this interview for Truckers News' View From the Top podcast series. "I would tell prospective employees, everybody still has to eat. Shelves still need to stay stocked so come drive a truck. It's a different world, but you'll love it."
And, it appears people are taking Eggleton at his word. This family-owned reefer carrier with more than 320 drivers stays busy as the pandemic sidelines many businesses, including some trucking companies. In the process, Eggleton says Raider has made numerous adjustments including:
buying 15 new trucks
buying a fifth-wheel camper to serve as a driver lounge at its terminal
making trips to a local Walmart three or four times a week to buy provisions for drivers
bringing in lunch each day for folks still working at the office and distancing those people from drivers
constantly seeking sources for hand sanitizer
hiring four new people to thoroughly clean trucks as they come into the Raider yard
cleaning the offices and driver lounge constantly
taking the temperatures of drivers and office staff every day
But, it is still holding classes for new drivers, driver turnover is low, and construction progress continues on its large, new facilities Eggleton says will open this summer.
"I'm just extremely proud of what Raider has accomplished," said Eggleton, adding that the company, the trucking industry, and the country will emerge stronger from the COVID-19 coronavirus pandemic.
Search thousands of trucking jobs to find the job you want.
Find Your Next Job Today