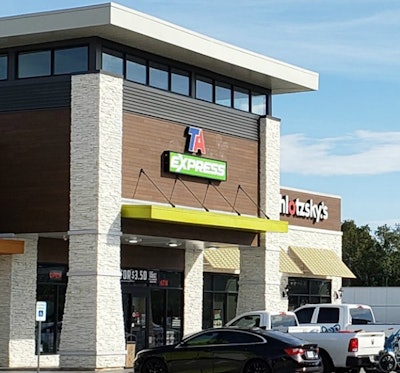 TravelCenters of America Inc. recently announced plans to open three new travel centers in as many weeks during June. The openings are all conversions of existing travel centers to TA-branded sites.
Planned openings include:
June 2: TA Express opens in Vermillion, South Dakota. (The fourth Coffee Cup Fuel Stop converting to a TA Express through a franchise agreement with Heinz, Inc.)
June 10: TA Express opens in Nacogdoches, Texas. (Formerly the Gateway of Nacogdoches Travel Center)
June 17: TA travel center to open in Lake City, Florida. (Formerly the Shuttle Truck Stop 75)
With these openings, TA will expand its network of total travel centers to 269. More openings are planned for 2020, in cities including Huntington, Oregon; Cookeville, Tennessee; Edgerton, Kansas, and South Houston, Texas.
TA announced in May its focus on franchising to expand its network. Since the beginning of 2019, TA signed 18 new franchise agreements.