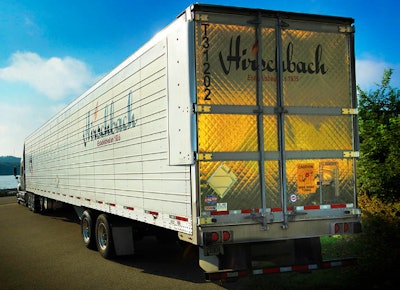 Hirschbach Motor Lines today announced its new Top Tier Pay Incentive Plan for lease over-the-road operators, which the company says is designed so operators can earn between $80,000 and over $100,000 per year.
Beginning Aug. 10, new lease operators were eligible for the Top Tier Incentive Pay Plan that includes weekly and monthly incentives, and a soon to come long-term retention incentive plan.
The new pay plan will pay lease operators an additional 10 cents per mile for all miles driven for driving safely throughout the week. The monthly incentive will add 10 to 30 cpm for all miles over 4,000 if operators continue to drive safely and deliver their shipments on-time for the entire four-week period.
The new All-In Retention & Rewards Program, which the company says is a long-term savings plan, invests in the operator's future. Hirschbach will contribute $1,500 to an account every year the operator is with the company. Operators can then invest that money into a variety of mutual funds and track their investments online.
Founded in 1935, Hirschbach Motor Lines has a fleet of 2000+ trucks and 3,500+ trailers, multiple terminal locations, and continues to expand into new service areas. For more information about the Dubuque, Iowa-based carrier, visit www.hirschbach.com