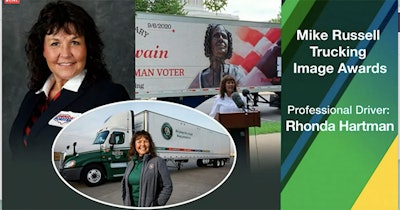 A veteran woman truck driver was one of three recipients of a major trucking industry image award recently.
Rhonda Hartman, who has amassed some 3 million accident-free miles during her 37-year career on the road, was one of three recipients of the Mike Russell Trucking Image Award given Monday, Oct. 26 by the American Trucking Associations during its annual Management Conference and Exhibition. She drives for Old Dominion Freight Lines, which is located in Thomasville, North Carolina.
Hartman, who has been an America's Road Team Captain, was one of three women truckers who participate in a convoy honoring the centennial of Louisa Swain casting the first ballot as a woman in the United States.
The other recipients were:
First awarded in 2007, the Mike Russell Trucking Image Award is given each year to an individual, motor carrier, trucking organization and industry supplier who each demonstrate excellence in illustrating the industry's essentiality, professionalism, and commitment to safety on and off the highways. Since 2014, the award has been sponsored by HireRight. It is named in honor of Mike Russell, a former ATA vice president of public affairs.
"This year has certainly been a challenging year, but a year where we have seen the trucking industry gain incredible momentum in the way we are perceived," said ATA Executive Vice President of Industry Affairs Elisabeth Barna. "Our drivers became heroes overnight, and they were recognized by families, kids on the side of roadways holding signs, community leaders, public officials and by the media. Our drivers were called frontline heroes – and were mentioned in the same sentence as doctors and nurses, and that is a testament to the work they did under these unprecedented circumstances."
This year's MCE was held online because of the COVID-19 coronavirus.