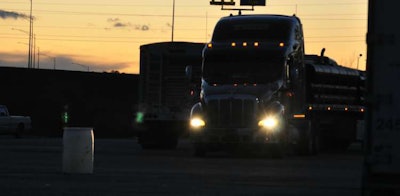 It appears the majority of truckers are benefitting from the changes to the federal hours of service that became effective a bit more than a month ago.
In a poll on Truckers News, we asked: "Have changes in the hours of service regulations been of any benefit to you?" Responses included:
40.5% said yes
21% said yes, but only modestly
20.5% said no
18% said no, but it's good to know they are there if I need them
Designed to give drivers more flexibility during their driving day, the changes that became effective Sept. 29 included:
drivers will be allowed to use their 30-minute break in an on-duty, not-driving status and requiring it within their first eight hours of drive time, rather than their first eight hours on-duty
modifies the sleeper-berth exception to allow drivers to split their 10-hour off-duty period into windows of seven hours and three hours, in addition to the existing eight-hour, two-hour option. It also adds the shorter period in any split off-duty will pause the rolling on-duty clock
allows drivers to extend their drive-time limit and their on-duty window by two hours if they encounter adverse weather conditions or traffic congestion
changes the short-haul exception available to some commercial drivers by lengthening their maximum on‑duty period from 12 to 14 hours and extending the distance limit within which the driver may operate from 100 air miles to 150 air miles
The process to add flexibility to the hours of service regulations began with the arrival of Ray Martinez as administrator of the Federal Motor Carrier Safety Administration in the spring of 2018.
Further changes to hours of service and other regulations are likely to hinge on the results of today's elections.