The COVID-19 coronavirus pandemic is expected to put a damper on Thanksgiving-related travel next week, meaning truckers could see a decrease in the number of motorists on the highways. However, professional drivers can still expect to see congestion in typical bottlenecks in key metropolitan areas.
AAA Travel forecasts at least an overall 10% decrease in all modes of holiday travel, which the company says will be "the largest one-year decrease since the Great Recession in 2008."
Looking ahead to next week's holiday, a statement from AAA said: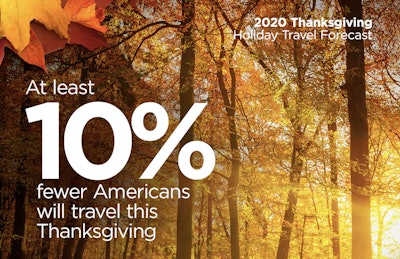 "Based on mid-October forecast models, AAA would have expected up to 50 million Americans to travel for Thanksgiving – a drop from 55 million in 2019. However, as the holiday approaches and Americans monitor the public health landscape, including rising COVID-19 positive case numbers, renewed quarantine restrictions and the Centers for Disease Control and Prevention's (CDC) travel health notices, AAA expects the actual number of holiday travelers will be even lower."
According to AAA, those who decide to travel for the holiday are likely to drive shorter distances and reduce the number of days they are away, making road trips the dominant form of travel this Thanksgiving. Travel by automobile is projected to fall 4.3%, to 47.8 million travelers and account for 95% of all holiday travel.
Traffic volume is expected to be less than in years past, but travelers in major urban areas will experience increased delays at popular bottlenecks, up to 30% above normal pandemic congestion levels. INRIX, the traffic and. travel analysis firm, expects Wednesday afternoon to see the highest volume of traffic.
"Though fewer people will be traveling this Thanksgiving, we expect more holiday drivers than we had over the last few holidays during COVID-19," said Bob Pishue, a transportation analyst at INRIX. "Drivers should plan alternate routes and departure times to avoid traffic jams."
Busiest Corridor in Each Region from Nov. 25 to Nov. 2929
Region
Corridor (from/to)
Peak congestion period
Peak delay in minutes
Atlanta
I-85 South – Decatur Streety to Clairemont Road
11/25/2020 3:30 p.m.
38
Boston
I-93 North – Massachusetts Connector to Main Street
11/25/2020 3:15 p.m.
14
Chicago
I-290 West – UIC to Jackson Boulevard
11/25/2020 4 p.m.
41
Detroit
I-96 West – I-96/275 to Novi Road
11/25/2020 4 p.m.
16
Houston
I-10 West –Sjolander Road to I-10/330
11/25/2020 3:45 p.m.
15
Los Angeles
I-5 South – Colorado Street to I-5/605
11/25/2020 5:30 p.m.
69
New York
I-95 South – Bruckner Interchange to George Washington Bridge
11/25/2020 3:45 p.m.
44
San Francisco
I-580 East – CA-238/Hayward to 205 Interchange (Tracy)
11/25/2020 3:45 p.m.
57
Seattle
I-5 South – S 348th St to Tacoma Dome
11/26/2020 1:15 p.m.
23
Washington, D.C.
I-95 South – Springfield Interchange to Gordon Boulevard
11/27/2020 11:45 a.m.
14