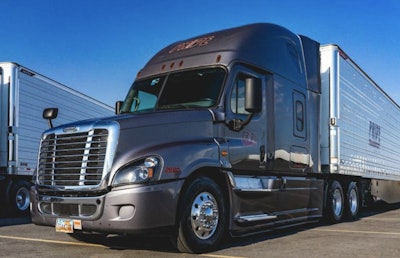 A 450-truck carrier headquartered in Salt Lake City is the latest trucking company to increase driver pay.
Pride Transport, a family-owned and operated carrier, recently announced an across-the-board pay increase effective today, Dec. 1. Driver pay increases by four cents per mile with an additional four cents per mile for two years as part of the company's $10,000 sign-on bonus payout.
"This is an exciting announcement," said Steve Schelin, director of recruiting for Pride. "What does that mean for a driver coming to Pride Transport? It means our base pay rate is 45 to 47.5 cents per mile and then we add so many extras."
Schelin says Pride Transport offers a $10,000 sign-on bonus paid out over two years. "That may sound like a long time but it's paid at $100 per week for two years – that's the equivalent of another 4 cent-per-mile raise during that time," he says.
Pride Transport was founded in 1979 and today provides OTR, regional, dedicated and local positions in its temperature-controlled division.
Stevens Transport
Stevens Transport, the largest refrigerated trucking company in Texas, today announced it was giving drivers in all divisions what it called "a major pay increase" to show its appreciation and commitment to its drivers.
Starting pay under the new compensation plan in the over-the-road division could be up to 54 cents per mile, depending on a driver's level of experience. Drivers in the dedicated division can top out at 62 cents per mile depending on the division and experience level. Regional drivers earn up to 55 cents per mile under the new pay package and teams in the expedited division can start out as high as 56 cents per mile.
"During the past year, our drivers have shown incredible commitment and fortitude," said Stevens President Clay Aaron. "To show our gratitude and appreciation, effective Nov. 16, we will be raising the pay for our drivers by as much as 14%, in our OTR, dedicated, regional and team divisions,"
Angela Horowitz, Stevens' vice president of Driver Resources said the company's success is a direct result of its drivers. She said they are handling increased demand and delivering for customers every day, and the new pay package rewards them for their hard work and dedication.
"Bringing new drivers into the industry is extremely important," said Horowitz. "And our pay increase will also apply to these new drivers as well. First-year drivers will see pay increases of 14%, allowing them to earn up to $60,000 in their first year out of school," she added.
Founded in 1980 by Steven L. Aaron with a fleet of 10 trucks, Stevens Transport is still family-owned and operated. It now has some 2,500 drivers.
K & B Transportation
These are uncertain times for everyone, but even more so for professional truck drivers, even if they have been determined to be among this country's "essential" workers.
The COVID-19 coronavirus pandemic and the personal, societal, and economic changes it has brought are amplified for truckers. They must drive through and to parts of the country where COVID-19 is spiking again, struggle to find hot meals others take for granted, and often find it difficult just to locate a safe place to park when done driving. And, besides, they're on the road when so many other Americans are now working from home.
So, the last thing a trucker needs is to also worry about how much money they can expect to have each pay period. K & B Transportation brings certainty to that important aspect of their drivers' lives. Not only does the Nebraska-based refrigerated carrier give drivers a guaranteed number of miles each week, but it's also raising what it pays for those miles at the end of this month.
Sean Barragan is the director of recruiting for the 775-truck carrier based in South Sioux City, Nebraska. He says delivering certainty to drivers these days is one of the things that sets K & B Transportation apart from other fleets.
K & B's pay package is highlighted by a guarantee of 2,500 miles each week, which translates to $1,350 per week at a minimum. Barragan said this acknowledges that driving over-the-road can be unpredictable because of weather conditions, traffic congestion, breakdowns, or getting hung up at a shipper. He said K & B's mileage guarantee is meant to make it so drivers don't have to fret over how such things will cut into their pay, maybe keep them from paying their bills.
"We're just saying, if you're on the road Monday noon to Monday noon and have a bad week, hey, you know what, we're going to make up the difference," said Barragan. "You're trading your time for money and we didn't give you the money that you should have that week. And so that's what we're going to do to make up the difference."
In addition, at the end of this month, K & B is increasing driver pay by 4 cents per mile across the board. That means a new driver with at least six months of experience begins at 54 cpm, up from 50 cpm. The top of the pay scale will go from 54 cpm to 58 cpm.
The company also offers a variety of accessory pay and bonuses tied to safety, referrals, and clean inspections.
But, it's more than just the numbers on drivers' pay stubs that helps attract drivers to K & B and keep them there, according to Barragan. He said the company also wants truckers to have peace of mind when it comes to having the home time they want and need, the benefits they count on, and even the equipment they drive.
K & B drivers can choose what sort of driving they wish to do. The company offers over-the-road either strictly in the Midwest or nationally. K&B also has salaried dedicated driving opportunities in the upper Midwest. Salaries for these dedicated positions are also increasing at the end of the month. The company also has fleets that ensure drivers are home on the weekend while driving primarily in the upper Midwest.
Barragan said the company believes its drivers do better when they don't have to worry about the condition of the trucks they drive and have some added creature comforts while on the road.
Barragan said K & B's Fleet is comprised of newer Freightliner Cascadias with Detroit DD 13 engines, mostly DT 12 automatics, ThermoKing and Carrier APUs, Bluetooth radios, Cobra 29 CBs, refrigerators, 2,000-watt power inverters, Omnitracs, and driver-assist technologies.
But, Barragan said K & B's approach to attracting and retaining drivers goes beyond big concerns like pay and benefits, home time, and access to reliable equipment.
"I like to tell people our dedication to the drivers starts off from day one," said Barragan.
That plays out by K & B flying new drivers to orientation, whereas many other companies will put them on a bus. The difference between five hours by air versus 18 hours on a bus says a lot to that driver, said Barragan. And, once they get to orientation, they have a single hotel room.
"And we have personalized orientation and personalized dispatch," said Barragan. "We look at you as a person and not just as a driver."
But, there's more, and it's something pretty fundamental.
"First and foremost, what we tell you is going to be true," said Barragan, who said he stays in touch with drivers long after they have been recruited, gone through orientation, and get seated in a truck. "We're going to tell them the truth. We're not going to mislead them. We pay what we say, we do what we say we will do. And that's the reality working for K & B."
CoreTrans
CoreTrans, based in Somerset, Kentucky, recently announced a new pay program for drivers. With the new pay plan, CoreTrans' drivers can now earn up to 53 cents per mile as well as added home time options.
Under the new pay plan, drivers can receive anywhere from 47-53 cents per mile based on their years of experience while team drivers can earn 71 cents per mile. CoreTrans still offers weekly home time, but drivers will now have the option of a 12-2 schedule, which gives them 48 weekend hours off after every 12 days of working. New drivers to CoreTrans will also be eligible for the company's $5,000 sign-on bonus, which pays out during the driver's first nine months of employment.
In addition to the new pay, CoreTrans offers $500 paid orientation; health, dental, vision, and life insurances; 401k and paid vacation; 100% no-touch freight; no forced dispatch to New York City; and pet and rider policies. Drivers can also increase their income with CoreTrans' $3,500 referral bonus and .5 CPM raises every six months with no cap.
"At CoreTrans, we value our drivers' experience and their hard work," said Jeff Ellis, chief operating officer for CoreTrans. "As the backbone to our business, we can now offer our drivers a competitive pay package that will continue to take care of our drivers as we move forward."
Founded in 2002 by CoreTrans President Brian Whitaker, a third-generation trucker, CoreTrans operates over 135 trucks and 265 dry van trailers.