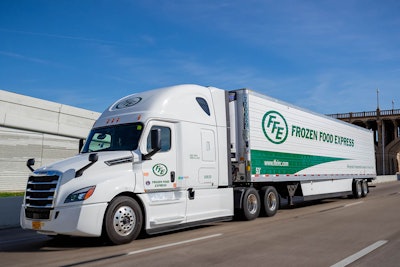 Major trucking companies continue to respond to a strong freight market by increasing truck driver pay.
Frozen Food Express, a major asset-based, temperature-controlled LTL carrier, is poised to pass along a substantial linehaul company driver pay increase in early January. FFE linehaul solo company driver pay is set to increase 25 percent for new drivers and the pay increase will see some experienced drivers earning up to 60 cents/mile base pay. Additionally, linehaul team company driver pay is also set to increase by 20 percent starting in early January, according to a statement from the company.
"Our drivers have been resilient throughout this entire year dealing with unprecedented challenges in the transportation and shipping industries due to the COVID-19 pandemic," said Nick Cook, FFE vice president of operations. "As market conditions have changed and the American economy has roared back to life in recent months, we are thrilled to be in the position to increase our linehaul driver pay significantly starting in only a few weeks.
"Truck drivers across the country have been the unsung heroes of 2020, and we are very proud of our drivers at Frozen Food Express. This pay increase, coupled with consistent lanes and predictable home time, further positions FFE as one of the most desirable carriers to drive for in the entire industry."
FFE has more than 75 years of providing shipping solutions to some of the most respected brands in America. Additionally, FFE has 17 locations throughout the country providing cold storage and breakbulk services.
Epes announces largest pay increase in its history
Epes Transport System, of Greensboro, North Carolina recently announced what it says is "its largest pay increase across all divisions" effective Jan. 3, 2021.
"During 2020, our truck drivers really stepped up and showed the country what essential work they do every day," says Phil Peck, Chief Operating Officer with Epes Transport System. "That's why we're so excited and proud to announce this historic pay raise.
"The increase will impact the majority of our hourly and mileage positions, across multiple operations. It is well deserved to recognize our professional fleet for their service and dedication during a difficult year, as well as position ourselves for dynamic growth in 2021."
The pay boost is in addition to other advantages offered by Epes such as weekly home time, guaranteed miles and pay, full benefits, paid vacations/holidays, 401(k), late-model tractors and much more.
Epes Transport is headquartered in Greensboro North Carolina, with additional terminals located in Charlotte North Carolina; Rockwall, Texas; Chester, Virginia.; Morristown, Tennessee.; and, Valdosta, Georgia., in addition to several drop yard locations. The dry van regional division operates in the Southeast, Southwest, Midwest, Northeast, and Texas. Epes also has a dedicated division with over 50 operations located in several Southeast and Gulf Coast states providing dedicated services including switching/shuttling, store deliveries, yard services, and other dedicated offerings.
Crete Carrier and Shaffer Trucking raise driver pay
Epes Transport System is a truckload common and contract carrier with 1,500 units. It is the largest privately-owned trucking company in the state.
National over-the-road drivers with Crete Carrier and Shaffer Trucking will receive their third pay raise within the last three months, according to an announcement Thursday, Dec 17 on the company website. This increases starting pay on national fleets to $.54-$.60 per practical mile, according to the company.
"We've seen growing demand from customers for the safe, reliable service provided by Crete Carrier and Shaffer Trucking drivers," said Crete Carrier President and COO Tim Aschoff. "We've been able to negotiate rate increases with those customers and we're passing them along to our drivers."
Since October 1, 2020 drivers on the national OTR fleet have seen their per-mile pay grow by about 10%. Miles for drivers have also increased in 2020 and that trend is expected to continue in 2021. Crete Carrier and Shaffer Trucking pay by practical miles, which on average increases a driver's miles by 3% to 5% compared to companies paying by short route miles.
Aschoff says the latest pay raise is a reward for current drivers and an incentive for new drivers to come aboard.
"Crete Carrier and Shaffer Trucking serve some of the most well-known businesses in America and we need more safe, experienced drivers to meet demand from those customers. We're looking for drivers seeking a long-term opportunity with a family-owned company that serves a stable customer-base," said Aschoff.
Crete Carrier also announced pay raises for many drivers on regional and dedicated fleets throughout the country. Aschoff says they expect to announce pay increases for additional dedicated fleets in the coming weeks.
Schneider drivers get pay raises in January
Schneider announced Wednesday, Dec. 17, it will increase pay for its solo and team drivers, effective Jan. 24. Many Schneider drivers will earn up to an additional 4 cents per mile.
The latest pay increase is in addition to a number of changes the company made in 2020 to increase pay to drivers, including adding six paid holidays per year, adjusting truck speed from 63 to 65 mph, and implementing a weekly guarantee pay program for inexperienced drivers.
The Green Bay, Wisconsin-based carrier announced an increase in team driver pay earlier this year.