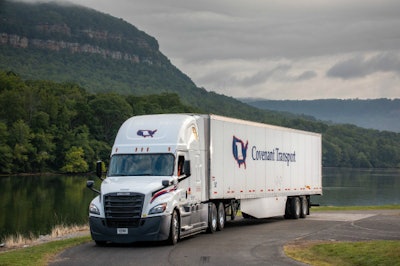 Drivers at one of the largest trucking companies in the U.S. will welcome the new year with a pay raise.
Covenant Transport announced recently what it says is the largest driver pay increase in the company's history, which takes effect Jan. 4. The company will raise the base linehaul team driver pay rate by an average of 9 cents per mile across all driver types. The largest increases will be reserved for drivers with more than one year of experience, as a driver with one year of experience plus a hazmat endorsement will now start at a weekly non-per diem rate of 66 cents per mile, up from a previous starting rate of 50 cents per mile.
"We've been eager for some time now to announce a significant pay raise like this one," said David Parker, CEO of Covenant, noting that the company last increased driver base pay five years ago. "Today's announcement is long overdue for our drivers."
Covenant is headquartered in Chattanooga, Tennessee, and employs more than 2,100 drivers.