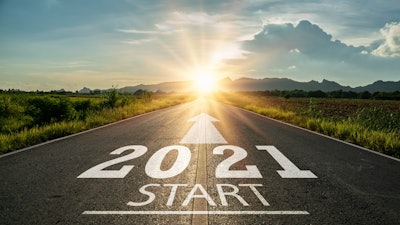 2020 proved the best-laid plans for trucking events meant little when stacked up against what would become both a mammoth public health crisis and economic calamity for the nation.
The COVID-19 coronavirus caused the cancellation or postponement of many trucking events last year, and actually prompted some to be held successfully online. It's anybody's guess what will become of truck shows, conventions, conferences, and special events in 2021 given the fact COVID cases are once again spiking, deaths are mounting, the administration of the vaccine is being fumbled and new strains of the disease have formed.
However, here are some of the events on the 2021 calendar thus far. Keep in mind, dates, and locations are subject to change.
April 17-20: Truckload Carriers Association annual convention at the Wynn Las Vegas includes keynote speaker Daymond John of ABC's Shark Tank
May 4-6: Commercial Vehicle Safety Alliance International Roadcheck is an annual three-day event when CVSA-certified inspectors conduct compliance, enforcement, and educational initiatives targeted at various elements of motor carrier, vehicle, and driver safety.
May 6-8: Kenley 95 Truckers Jamboree at the Kenley 95 Truck Stop on Interstate 95 in Kenley, North Carolina
May 9: Mothers Day Convoy for Make-A-Wish for Philadelphia, Delaware, and Susquehanna Valley at the Manheim Auto Auction in Manheim, Pennsylvania. If an in-person event is not possible, it will be held virtually as it was last year.
June 1-5: America Truck Historical Society National Convention & Truck Show at the Rockingham County Fairgrounds in Harrisonburg, Virginia
June 18-19: Antique Truck Club of America 42nd Annual National Truck Meet and Flea Market, Macungie Memorial Park, Macungie, Pennsylvania
July 8-10: Walcott Truckers Jamboree at the Iowa 80 Truck Stop on Interstate 80 in Walcott, Iowa
July 11-17: CVSA Safe Driver Week is an annual one-week enforcement and educational blitz in. the U.S. Canada and Mexico that spotlights unsafe driving behaviors by both commercial motor vehicle drivers and car drivers in an effort to combat the number of deaths and injuries from crashes.
Aug. 22-28: CVSA Brake Safety Week sees inspectors conduct brake system inspections (primarily Level IV Inspections) on large trucks and buses throughout North America to identify out-of-adjustment brakes and brake-system violations.
Sept. 12-18: National Truck Driver Appreciation Week
The Mid-America Truck Show was canceled last year and had planned to be back March 25-27 in Louisville, Kentucky for their 50th anniversary show. However, organizers have said dates "currently being evaluated for MATS 50th are September 16-18, 2021 or March 24-26, 2022. We are actively consulting with exhibitors and attendees to determine which dates are most viable and a final decision will be made by February 15, 2021."
Editor's Note: If you are a truck show organizer, drop us a quick email with details about your 2021 event and we will include it in a future issue.