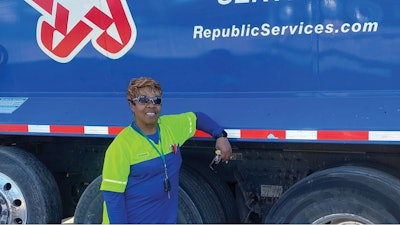 Charlene Frelix Johnson, who drives for Republic Services, was chosen May's Member of the Month by the Women In Trucking organization.
With Republic Service for four years, Johnson is one of the few women in her division at the company's East Mesa, Arizona yard. She hauls trash and hazardous materials across her service area five days a week. The company said she provides exceptional service and "stops at nothing to succeed within her role." Republic services called her "a shining star on the team, highly respected and serves as the go-to for many operational challenges."
Growing up in Mesa, Johnson is a family-oriented woman with two children and five grandchildren. She said she decided to enter a male-dominated industry and take on all challenges that are associated with her role.
A statement from WIT said, Johnson is well known by the customers within her service areas and does an outstanding job of building positive rapport and relationships with the customers on her route. As an example of Johnson going beyond the scope of her work, WIT said one day a young child was admiring her truck as she drove down the street collecting the containers for service. After completing the street, Johnson circled back to where the child was, stopped, and allowed him to look at the inside of the "big blue truck."
Johnson is also described as "a great teacher who takes every opportunity to lead and teach her fellow drivers. Her positive energy is contagious, and she has a soft touch in communicating with her colleagues."
When she's not at work, Johnson enjoys spending time with her grandchildren.