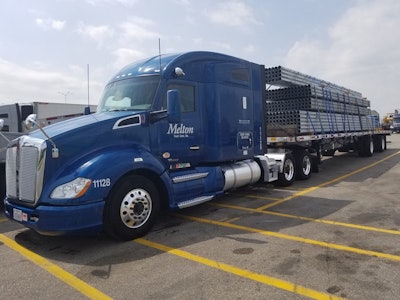 When things were about at their darkest in 2020 because of the COVID-19 pandemic, Russ Elliott found a source of optimism in what some might consider an unlikely source: the truck drivers on the road for Melton Truck Lines.
Elliott is the executive vice president and chief operating officer for the Tulsa-based flatbed carrier and like everyone else in the company, he had a list of 10 drivers to call and check in on as they negotiated the changes and difficulties wrought by COVID. The 20-year-veteran of Melton said he always felt better and buoyed after making the calls because the drivers were upbeat and positive about being on the road despite the hardships they encountered.
In this episode of the Truckers News Podcast, Elliott talks about how Melton's drivers have fared throughout 2020 and this year as well. He also explains how Melton raised driver pay three times in 2021, a total of 20% including doubling what the company pays for tarping loads.
RELATED NEWS: Oklahoma flatbed carrier Melton increases driver pay again
Driver compensation is important to Elliott and Melton for good reasons.
"Those guys and gals earn every penny out there on the road," said Elliott, who has been in the trucking industry for 30 years. "They deserve what they're getting now and even more."
He said Melton is able to pay drivers more because demand and rates are up, and the company passes along those increases to drivers.
Elliott added that COVID and the supply chain issues it has exacerbated are major difficulties for the trucking industry, but they have helped shine a light on the important role truckers play in the. economy.