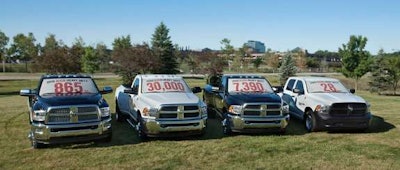 Ram takes heavy-duty towing and hauling seriously. With this week's start of 2015 model year Ram 2500 and 3500 Heavy Duty production, the truck world's "King of the Hill" further adds to its most-capable claims.
Here're the highlights for the Ram 2015HDs:
New Cummins 6.7-liter calibration adds 15 lb.-ft. of torque, edging out even Class 4 pickup competitors to a best-in-class 865 lb.-ft.
2015 Ram 3500 crushes the competition with up to 30,000 pounds of SAE J2807-spec. towing capacity, beating the closest competitor by nearly 1.5 tons
2015 Ram 2500 holds best-in-class 17,970 pounds of towing capacity, while adhering to SAE J2807 test criteria
New best-in-class payload of 7,390 pounds (Ram 3500)
Ram maintains credibility and customer confidence as the only automaker to align with the SAE J2807 towing standard for its entire pickup truck line
Best-in-class Gross Combined Weight Rating (GCWR) of 37,900 pounds
Unsurpassed powertrain warranty – five years/100,000 miles
"Ram maintains leadership throughout its pickup line by offering best-in-class fuel efficiency with our Ram 1500 EcoDiesel at 28 MPG, best-in-class towing at 30,000 pounds, best-in-class power at 865 lb.-ft. and best-in-class payload at 7,390 pounds with our Ram 3500," said Bob Hegbloom, Head of Ram Truck Brand, Chrysler Group LLC. "Ram owns best-in-class attributes in the areas that are most important to truck customers."
Working closely with Cummins, a more aggressive fuel delivery and turbo boost calibration to the 6.7-liter I-6 produces an additional 15 lb.-ft. of torque. This improvement places the coveted engine ahead of the competition with 865 lb.-ft. of torque, while maintaining performance and EPA compliance.
The Ram 3500 continues towing leadership at 30,000 pounds and adds a new notch in its belt with a chart-topping payload of 7,390 pounds.
The payload claim was made possible by challenging the Ram 3500 6.4-liter HEMI V-8 pickup with an increase in GVWR of 100 pounds, now 13,800 pounds GVWR.