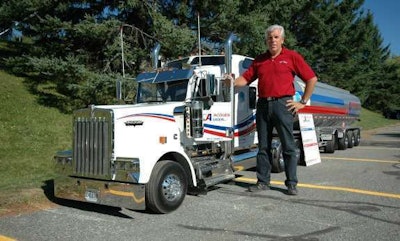 No, your eyes do not deceive you. Jacques Auger is a normal-sized Canadian man, but he is standing with the miniature Kenworth tractor trailer he built.
In 2007, Auger, who owns a fleet of petroleum haulers in Quebec, decided to build a small scale exhibition truck. He and Donald Gingras spent over 2,600 hours on the project.
Unlike many small trucks, this is not a fiberglass body over a golf cart, it's an exact replica. Power is by a 3-cylinder Cummins turbo diesel that pumps out 37 hp through a Ford Ranger 5 speed tranny ending up in a true tandem drive system using a pair of Suzuki jeep differentials. It also has a complete working air brake system.
Photo and story by Mike Bradford