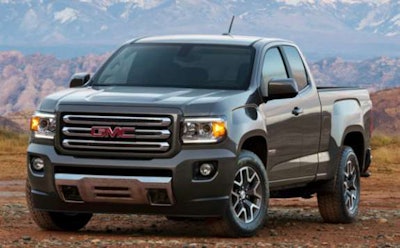 The 2015 Chevrolet Colorado and GMC Canyon will offer segment-leading fuel economy for V-6 midsize pickups when they hit dealers this fall, based on EPA fuel economy estimates released today.
For V-6 pickups with automatic transmissions, which make up the majority of midsize truck sales, Colorado and Canyon offer highway fuel economy 3 to 5 mpg better than competitors. Here are the numbers:
GM Colorado/Canyon V-6 Automatic 2wd – EPA 18 city / 26 Highway
GM Colorado/Canyon automatic 4X4 – EPA 17 city / 24 Highway
Toyota Tacoma V-6 automatic 2wd – EPA 17 city/21 highway
Toyota Tacoma V-6 automatic 4×4 – EPA 16 city/21 highway
Nissan Frontier V-6 automatic 2WD – EPA 16 city/22 highway
Nissan Frontier V-6 automatic 4×4 – EPA 15 city/21 highway
"Colorado offers some of the best EPA fuel economy estimates of any pickup in a fun-to-drive, easy-to-own package," said Tony Johnson, Colorado marketing manager. "Colorado proves you don't have to buy a lot of expensive technology to save money at the pump."
"The all-new 2015 GMC Canyon adds segment-leading fuel economy to its winning resume," said Kenn Bakowski, Canyon marketing manager. "Innovations such as available active grille shutters combine with an aerodynamic design in a smaller, more maneuverable package to set a new standard for fuel economy in midsize trucks."
For the 2016 model year, Colorado and Canyon will add a 2.8-liter Duramax turbo-diesel to the engine lineup. Technical details and EPA fuel economy estimates will be available closer to launch.
EPA fuel economy estimates for four-cylinder Colorado and Canyon will be finalized in the near future.
GM dealers have already ordered 28,000 Chevy Colorados and 14,000 GMC Canyons, both of which began production this week.