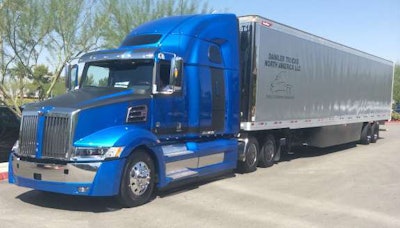 Forget what you think you know about Western Star. The proud niche-player that made its name with tough, long-nosed conventional designs, introduced its new, aerodynamic 5700XE highway tractor at a press launch last week in Las Vegas.
The new truck features a highly sculpted, sleek design that retains the bold styling and robust stance of years past while delivering fuel economy numbers that place the truck firmly in the most aggressive greenhouse gas emissions regulation category. In fact, according to Western Star design engineers, the new truck is already earning the company EPA emissions credits with its fuel efficiency performance — a feat that is unprecedented in the company's 47-year history.
Ann Demitruk, director of marketing for Western Star, said the concept of the truck arose during focus group conversations at the 2009 Mid-America Truck Show with project approval coming two years later. The truck debuted after countless wind tunnel tests and over 20,000 hours of performance and functionality testing –
by far the most intensive development effort in Western Star's history.
"XE – which stands for extreme efficiency – summarizes exactly what this new truck is all about," added Michael Jackson, general manager, Western Star. "By blending legendary Western Star ruggedness together with aerodynamic innovations, and the most fuel efficient powertrain available, we have built a powerful solution that is the best of both worlds – and unlike anything else on the road today."
Jackson says the Class 8 on-highway truck is ideal for owner-operators and small to medium fleets in truckload/LTL, bulk, refrigerated, long-haul and manufacturing applications. The 5700XE features a 126-inch BBC with a set-back axle, and is available in a range of spacious and lightweight sleeper configurations.
"Some people say we're late to the aerodynamic trend in trucking," Jackson noted. "But we think our timing is perfect: We're now seeing smaller fleets and owner-operators starting to get back into the industry now that the economy is improving. And the 5700XE is perfectly positioned to help them make money while owning a distinctive truck that fits their image and sets them apart from the competition."
All-new features
Demitruk pointed out a multitude of all-new features that define the new truck, including an aerodynamic hood, roof, chassis and cab fairings to reduce drag and increase efficiency.
Additional performance features include:
A new sweptback four-piece bumper with an under-bumper valance that contributes to aerodynamic efficiency.
New halogen headlights that are optimized for aerodynamic performance and excellent visibility.
A state-of-the-art visor specifically engineered to work with the impressive slope in the hood's rear air ramp to direct airflow over the cab without an aerodynamic penalty.
Roof and cab fairings that sweep back for tighter trailer gap and help direct air flow over and around the trailer.
Optional chassis side fairings that reduce drag by up to 6 percent while still providing easy access to batteries and DEF tank.
The Western Star Twin Force dual air intake, which feeds a massive centrally mounted air filter to improve efficiency.
Integrated powertrain options
Jackson noted that Western Star opted to leverage the full technological resources of Daimler Trucks North America when it came to the 5700XE. As a result the truck will be offered exclusively with Daimler/Detroit powertrain systems. Cummins engines will not be offered and the only non-Daimler transmission option is an Eaton manual gearbox.
"The 5700XE can be spec'd with the fuel-efficient Detroit DD15 engine," added Brad Williamson, marketing manager for Detroit. "The DD15, which features the proprietary asymmetric turbocharger and next-generation ACRS fuel system, delivers improved fuel efficiency and total cost of ownership while providing the power drivers demand."
Williamson says the 5700XE can also be spec'd with the Detroit DD16 engine, which, with up to 600 horsepower, delivers the maximum power many Western Star customers require; or the Detroit DD13 engine for regional and weight-conscious customers. The truck comes standard with the Detroit DT12 automated manual transmission that can be mated to any of the Detroit engines offered. This transmission helps customers reduce the total cost of operation, significantly improves the driver experience, and contributes to improved driver safety.
"For ultimate efficiency," Williamson adds, "Customers can select the new integrated Detroit Powertrain. Featuring the new downsped DD15 engine rated at 400 horsepower and 1,750 foot-pound torque, DT12 transmission with Intelligent Powertrain Management and Detroit axles with specific configurations and gearing, the integrated Powertrain is engineered to work together to achieve the highest level of efficiency."
"Now customers can have both the most fuel-efficient powertrain available and unique quality and styling. In fact, our Daimler Trucks North America internal testing indicates that the 5700XE is competitive with the fuel-efficiency results of the leading truck model on the market," Demitruk added. "We want to provide the latest in proven technologies that will benefit customers' bottom line, and Detroit delivers on all fronts."