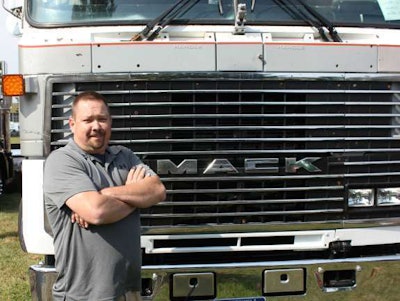 Bob Abbott remembers his first trip as a rookie driver, and it's not the best of memories.
He was 21 years old, and headed into the teeth of a nasty winter storm hauling a pair of 27-foot pups for Silverline Textiles in Wind Gap, Penn.
Abbott white-knuckled it on that 1995 highway adventure in a 1984 Mack MH600, and now he owns one.
Abbott was at the recent all Mack Event at Gerhart's Machinery in Litiz, Penn. with the truck he got just this past Memorial Day Weekend.
"I cut my teeth on this, and it's kinda cool to own one now," said Abbott, a full-time telephone lineman and part-time driver hauling food-grade flour for WW Transport in Iowa.
Abbott's truck has a 350 two-valve engine, a10-speed Mack transmission and its original red velour interior.