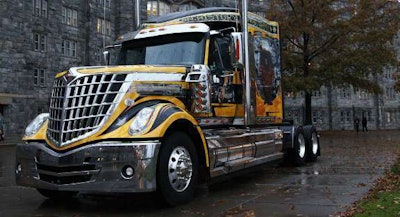 Since 1890, the Midshipmen of Navy have done battle with the Black Knights of Army in one of the most storied football rivalries in U.S. sports history.
This year, the two service academies will meet in M & T Bank Stadium in Baltimore on Dec. 13 at 3 p.m. in this year's Army-Navy game. (Navy has won the last 12 games, but Army leads the series 58-49-7).
See how the two teams will get all of their gear to the game. Also included in this photo slideshow is the hauler for the U.S. Air Force Academy Falcons.
Truckers News will salute U.S. military veterans on Tuesday, Veterans Day. If you're a trucker who served in the military, share a photo of yourself during your time in the service.
[gtbutton link="http://www.truckersnews.com/veterans/"]Gallery of Veterans Who Drive[/gtbutton]