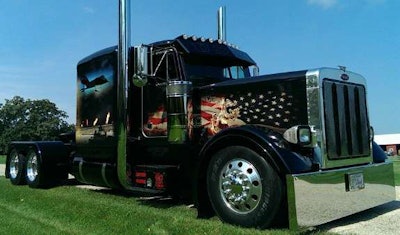 At this moment, there are some 22 million men and women in the U.S. who share a special bond, and today is their day: Veterans Day 2014.
Many of those military veterans are spending the day behind the wheel of a truck. It's estimated that of the 9 million veterans in this country's workforce, almost 1 million of them work in trucking or transportation-related fields.
Mike Ostergard is one such driver, and right about now he's probably headed south on I-95 on his way from New Jersey to Georgia.
Right after high school, Ostergard enlisted in the Marines, serving as his brother and father did. He was in the infantry during Desert Storm, and after that, Ostergard became a truck driver and has been one ever since.
The Kenosha, Wisc. native is now easy to spot on the highway. He's the guy driving a black 2002 Peterbilt 379 that's a rolling tribute to the U.S. Marines.
Calling it "a truly outstanding truck," Ostergard praised the work of the brothers who helped bring it to life.
Created by Dan and Dave Brown's DB Kustom Trucks in Antioch, Ill., The Marine Tribute Truck has a stunning graphic wrap that depicts what went on during Ostergard's time in the service and the war in which he served. It embodies the slogan of the Marines: "Semper Fidelis," or "always loyal."
Dan Brown says the project started in May and wrapped up in September. He said the Peterbilt was taken down to the frame rails, and essentially rebuilt giving it a clean, simple look that allows the graphics and the truck to do all the talking. The frame was lengthened, the cab moved 7 inches and a 63" flat top sleeper added.
Brown said he spent three weeks just researching the graphics for the truck's distinctive wrap, which includes the American flag, the Marine Corps insignia and an eagle on each side of the hood and battle scenes on both sides of the sleeper and the back. On the hood is the POW/MIA emblem.
"We owe so much to our armed services veterans," said Dave Brown, himself a driver and fleet owner. "What these young men and women do is truly outstanding.
(The Marine Tribute Truck has its owns Facebook group, which you can join.)
[gtbutton link="http://www.truckersnews.com/veterans/"]See Truckers Who Served[/gtbutton]
How it looked before …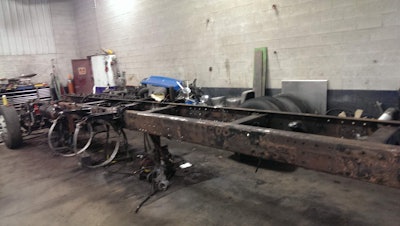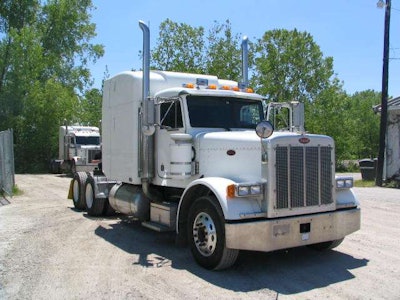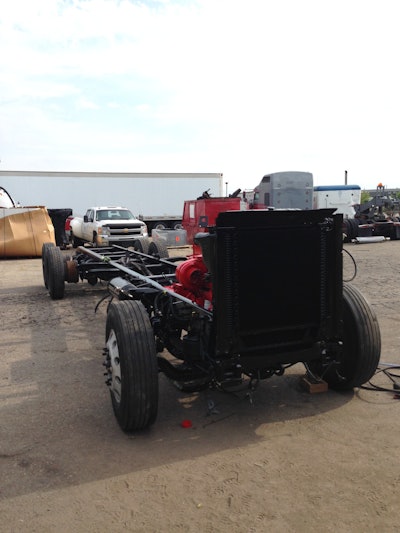 How it looked after …
[imagebrowser id=42]