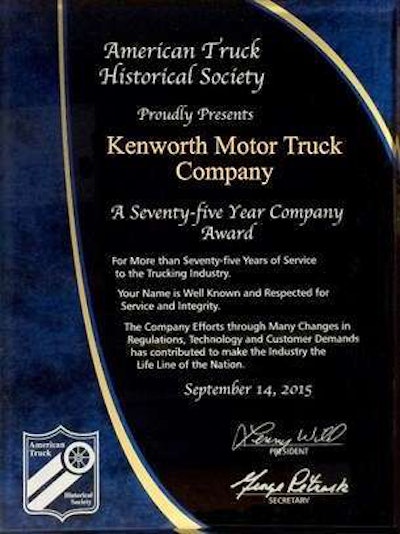 Kenworth Truck Company has been honored by the American Truck Historical Society (ATHS) in recognition for its years of service to the trucking industry.
"As a long-time leader in the trucking industry, Kenworth is well-respected and esteemed for its efforts to serve the trucking industry throughout its history. Kenworth's contribution, which includes support during many changes in regulations, technology and customer requirements, has helped make our industry the lifeline of the nation," said Don Bretthauer, executive director of the ATHS, which is headquartered in Kansas City, Mo.
"The American Truck Historical Society and its more than 20,000 members have a special mission in preserving the rich legacy and history of our industry," said Kurt Swihart, Kenworth marketing director. "We appreciate their dedicated and diligent efforts in that worthy endeavor, and Kenworth is honored to receive this special award."
The award was presented to Kenworth in conjunction with the Washington Trucking Associations Leadership Conference and Vendor Showcase held in Tulalip, Wash.
ATHS, incorporated in 1971, is dedicated to preserving the history of trucks, the trucking industry, and its pioneers.