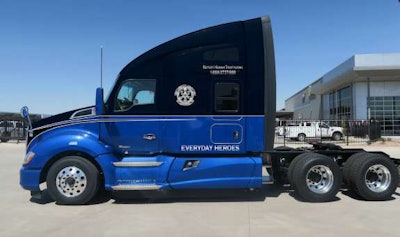 A trucker charity received its largest donation every from the sale at auction of a custom Kenworth Tuesday, June 20.
Kenworth's "Everyday Heroes" T680 was auctioned off by Ritchie Bros. in Phoenix, Arizona, with the proceeds benefitting Truckers Against Trafficking.
The truck sold for $125,000, according to the Ritchie Bros. website. It was purchased by Mike Jimenez, owner of Phoenix-based J&L Transportation. The truck reportedly will be placed in J&L's dedicated fleet and used in Arizona, California and Nevada.
The sale resulted in $89,000 going to Truckers Against Trafficking
The custom truck is equipped with a 485-horsepower Paccar MX-13, an Eaton-Fuller Advantage 10-speed automatic and a 76-inch sleeper.
"This is a great opportunity for truck fleets and operators to join the battle against trafficking by bidding on this special Kenworth T680," said Kurt Swihart, Kenworth marketing director.