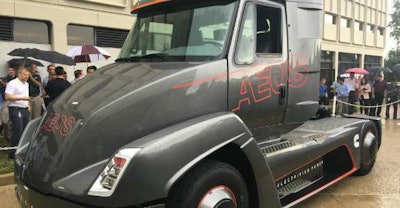 Cummins
on Tuesday introduced an all-electric Class 7 concept tractor.
The Aeos Electric Commercial Vehicle Demonstrator was designed and built in collaboration with Roush, and features a battery pack that is lighter and more dense, allowing it to hold a longer charge for improved range and faster charging. It also collects energy from a regenerative brake system and by driving. The truck will also get energy from solar panels mounted on the roof of a trailer.
Cummins said Aeos gets the diesel equivalent of more than 30 miles per gallon with a range of 100 miles on a single charge.