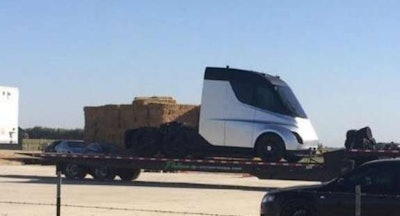 Because it is "Diverting resources to fix Model 3 bottlenecks & increase battery production for Puerto Rico & other affected area" Tesla is now saying it may not roll out its all-electric semi until some time in November. The official unveiling had been planned for Oct. 26.
Tesla's Elon Musk made the announcement in a Tweet Friday, Oct. 6. This is the second such delay for what the company is calling the Tesla Semi. The big reveal is now scheduled for Nov. 16.
The company reportedly is struggling to produce its new Model 3 sedan.
At the same time, a photo surfaced on Reddit purporting to show a Tesla Semi at an undisclosed location in California. When contacted by our colleague Jason Cannon at Commercial Carrier Journal, a Tesla spokesman refused to comment on the authenticity of the photo.