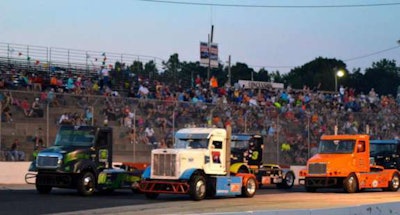 The Minimizer Bandit Big Rig Series wraps up its inaugural season Saturday, Oct. 28, at Crisp Motorsports Park in Cordele, Georgia, and will crown its first champion.
The race is the 13th of the season, which began in March.
Ricky "Rude" Proffitt has consistently been among the top finishers throughout the year, claiming five wins, which has allowed him to build a 192-point cushion in the overall points standings going into the final race.
Behind Proffitt in the standings is truck racing rookie Tommy Boileau, who ran off a string of four consecutive wins in the second half of the season.
Following the 25-lap feature race Saturday night, the championship will be awarded to the points leader.
Tickets for the race are $15 for adults, $8 for children ages 6-12, and free for children 5 and under. Pit passes are available for $30 for adults, $10 for children ages 6-12 and free for children 5 and under.
Grandstands and pits open at 2 p.m., practice begins at 4 p.m. and racing begins at 5 p.m.
The race will also be livecstreamed on the Bandit Series' Facebook page.