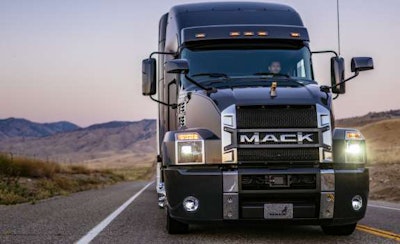 Mack Trucks has announced that it will donate a 2018 Mack Anthem 70-inch Stand Up Sleeper model to the American Trucking Associations' Share The Road safety program.
"Safety is a key focus for Mack, something we've demonstrated through the design of our new Anthem model and the many safety-focused features it includes," says Jonathan Randall, senior vice president of sales for Mack Trucks North America. "Mack's commitment to safety goes beyond our trucks to those who share our nation's roads."
The Share the Road program relies on professional truck drivers to conduct live safety exhibitions for students, media and policy makers demonstrating how to drive safely alongside semi-trucks. Each Share the Road driver has an outstanding driving record, including many with one million or more accident-free miles, the company says.
The 2018 Mack Anthem model donated to the Share the Road program features a 13-liter Mack MP8 505C engine with 505 horsepower and 1,860 lb.-ft. of torque paired with Mack's 12-speed mDRIVE automated manual transmission, which allows drivers to focus on the road ahead rather than shifting gears. The Mack mDRIVE is standard on all Mack Anthem models.
The Share the Road Anthem will also be equipped with Mack Road Stability Advantage by Bendix and Bendix Wingman Fusion. Road Stability Advantage is a fully electronic stability control system that helps reduce the risk of rollover and jackknife accidents. Bendix Wingman Fusion, a camera- and radar-based system, provides collision mitigation, adaptive cruise control and lane departure warning capabilities. Both systems are standard on all Mack Anthem models.