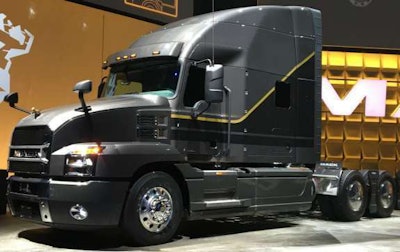 After months of flirting on social media, Mack Trucks Wednesday unveiled its newest on-highway model with no small amount of fanfare.
Anthem, which company officials say was designed with the driver in mind, was introduced at the company's Global Dealer Summit in Allentown, Pennsylvania and in a Facebook Live video event.
Anthem even got, well, an anthem of its own. "Born Ready" was written and performed by Steve Moakler, a country singer/songwriter from Pittsburgh. The truck is featured in a touching music video that shows a young girl waiting for her trucking-driving dad to get home … in his Mack Anthem, of course.
Jason Cannon, equipment editor for Commercial Carrier Journal and Overdrive, wrote of Anthem's debut:
Mack Anthem's enhancements help improve fuel efficiency by up to 3 percent, mostly through a redesigned hood and bumper that not only improve aerodynamics, but also cut service time thanks to their three-piece design.
Designers managed to pull better fuel economy out of the truck, Mack Vice President of Global Marketing and Brand Management John Walsh said, without sacrificing Mack's traditional body lines.
"[The Anthem] proves that a truck doesn't have to look like a jelly bean to get great fuel economy," he said.
"It was just fantastic," Lundstedt said of his first reaction when he first saw the design of the new truck months ahead of its debut Wednesday. "This [truck] is Mack, and this is a platform that expresses where we are coming from but also where we are heading for the future. It's a platform that will provide all the things we need to move forward."
The truck's model name, Anthem, is an homage to the company itself, which builds all its North American trucks in the Lower Macungie Township, Pennsylvania plant.
"[The Mack Anthem] is the right highway truck for North America," said Mack Vice President of Global Marketing and Brand Management John Walsh. "We are an American brand. We were born here. We were raised here, and we literally helped build this country. The name Anthem speaks to that American spirit."
"If any truck deserves to be called Anthem, it is a Mack," Mack President Denny Slagle added.