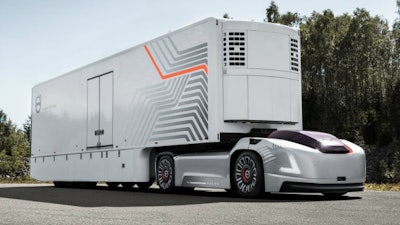 Yes, that's a tractor-trailer.
More precisely, it's an all-electric, autonomous tractor-trailer concept vehicle created by Volvo Trucks and named Vera. It's purpose in life, according to the company, is to haul goods over relatively short, fixed distances repetitively.
The company says Vera is "a new transport solution consisting of autonomous electric commercial vehicles that can contribute to more efficient, safer and cleaner transportation. The long-term goal is to offer companies that need continuous transport services between fixed hubs a complement to today's offerings."
Volvo also says Vera is entirely electric, creating no exhaust emissions and low noise levels. The driveline and battery pack are similar to those used in Volvo Trucks' electric trucks, according to the company.
Vera is said to have:
300 kWh battery capacity
a reported maximum range of some 186 miles
motors that provide about 500 horsepower