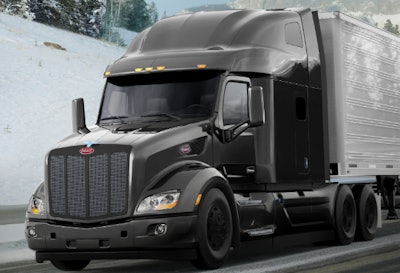 Peterbilt debuted its new all black colorway at the American Trucking Associations Technology Maintenance Council Annual Meeting in Atlanta earlier this week.
The Blackout Exterior Package includes an exclusive black effect exterior paint for the cab and sleeper, Alcoa Dura-Black matte aluminum wheels and a black finish grille crown. The black finish grille crown and Dura-Black aluminum wheels are also available as standalone options with any exterior color.
The Model 579 – modeling Pete's Blackout Exterior Package – is designed to further increase the driver appeal of the Model 579 UltraLoft says Robert Woodall, assistant general manager of Peterbilt's sales and marketing.
The package is available for order immediately.